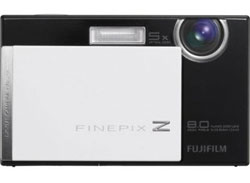 Fujifilm FinePix Z100fd
Digital Camera Review has reviewed the Fujifilm FinePix Z100fd compact digital camera. This camera stands a bit out with it's different design.
Some key features for the Fujifilm FinePix Z100fd:
-8 megapixel sensor
-5x optical Fujinon zoom lens (36-180mm equivalent)
-2.7″ LCD screen
-Image stabilization
-Intelligent red-eye removal
-Face detection
Digital Camera Review ends up giving the FinePix Z100fd an average review as the camera seems doesn't really stand out except for the design. The camera produces ok point-and-shoot pictures, but lacks a bit in sharpness and got too much saturation.
Overall this camera seems to be an ok camera for the casual photographer, but if you are a bit more serious about photography maybe you should look elsewhere for a camera with more manual controls.
Read the full review of the Fujifilm FinePix Z100fd camera here.