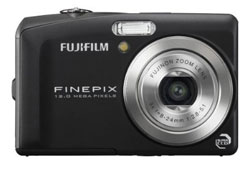 Fujifilm FinePix F60fd
DIWA Labs has been very busy and this time they have tested the Fujifilm FinePix F60fd compact camera which is an updated camera of the FinePix F50fd camera.
Some key features for the Fujifilm FinePix F60fd:
-12 megapixel sensor
-3x optical zoom lens (35-105mm, f/2.8-5.1)
-3″ LCD screen
-Dual image stabilization
-ISO 100-1600 sensitivity at full resolution, ISO 3200 and 6400 at 6MP and 3MP resolution respectively
Read all the tests Fujifilm FinePix F60fd of the camera here.
The tests done by DIWA Labs are very technical so you need to read their test guide to understand the test results.