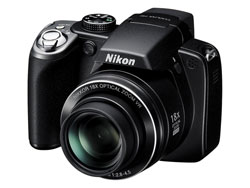 Nikon Coolpix P80
Nikon has announced the new super zoom camera Nikon Coolpix P80 in their Performance range. This compact digital camera sports an impressive 18x optical zoom.
Here are some features of the Nikon Coolpix P80 camera:
-18x optical zoom (equivalent to 27-486mm equivalent in 35mm format) with ability to focus as close as 1 cm
-10 megapixel sensor
-2.7″ LCD screen
-Image stabilization system
-Up to ISO 6400



Press release:
NIKON OUTPERFORMS THE REST WITH THE NEW COOLPIX P80
The P80 digital camera features an 18x zoom giving you the opportunity to explore the world from afar and in close up
10 April, 2008: Nikon UK announces today the COOLPIX P80, a new addition to its successful COOLPIX P series range.
The new 10 megapixel camera features a wide-range 18x NIKKOR zoom lens with extended telephoto capability, and incorporates image stabilisation for clear, blur-free results.
Designed for active photo enthusiasts with an interest in fine detail, this camera features a class-leading compact body size and a zoom lens that ranges from wide-angle to super telephoto (27-486mm equivalent in 35mm [135] format). In addition to this, the camera also offers manual control of exposure (shutter and aperture) and a high sensitivity rating of up to ISO 6400 for use in low light conditions. The exceptionally powerful zoom lens is capable of focusing on subjects that are as close as 1 cm, and image-shift Vibration Reduction technology stabilises the image sensor to combat camera shake.
Powered by Nikon's EXPEED image processing concept, the P80 is an up-to-date solution for the camera enthusiast, providing advanced digital features in a compact format. Kazuhiro Okano, Assistant Manager Consumer Products, at Nikon Europe comments: "The COOLPIX P80 has it all: powerful lens, manual and automatic modes and advanced technology in a compact and ergonomically-designed body. Anyone looking for versatile, high quality camera that is easy to carry around will be thrilled with the results."
The camera features an electronic viewfinder to allow accurate composition throughout the zoom range and also includes a large 2.7 inch monitor with anti-reflection coating and a wide viewing angle.
As well as offering comprehensive performance through the combination of wide-range zoom lens, image stabilisation and resolution, the P80 incorporates technologies that deliver outstanding results in specific areas. Three unique Nikon innovations that are designed for group and individual portraits (Face-Priority AF, In-Camera Red-Eye Fix and D-Lighting) are supported by the addition of high ISO sensitivity for situations when lighting levels are low.
For additional creative options after taking a picture, the 'Optimize Image' feature allows users to take monochrome photographs using a choice of four different filters for effect, while still saving the original colour version of the image.
The COOLPIX P80 is the ideal camera for the photo enthusiast who wants to have the convenience of a point-and-shoot camera with full manual control, and all possible options in-between. With 15 scene modes that are pre-configured for situations such as night time, fireworks, seaside, panoramas and sports photography, the camera can be preset to give the best results in many common settings. The capability for recording movies allows realistic action to be captured at a frame rate of 30 fps as well as time-lapse sequences which expose the mystery of scenes that evolve slowly over hours or even days. The camera comes with an internal memory of 52MB and will accept SDHC memory media, allowing high-speed storage of thousands of photos on a single card.
The P80 will be available at all Nikon retailers as of 25th April 2008.
RRP £: 299.99
RRP €: 448.00
Colours: Black