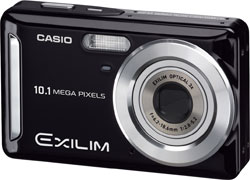 Casio EXILIM Zoom EX-Z29
Casio has today announced a new entry level camera in their Exilim Zoom series. It is called Casio EXILIM Zoom EX-Z29 and sports a 10.1 megapixel sensor and 3x optical zoom lens.
Some key features for the Casio EXILIM Zoom EX-Z29:
-10.1 megapixel sensor
-3x optical zoom lens (37.5-112.5mm)
-2.7″ LCD screen
-23 "Best Shot" scene modes
-face detection
-848 x 480 pixel Motion JPEG movie mode
The Casio EXILIM Zoom EX-Z29 will be available in April 2009 and cost about $150.

Press release:
Casio Introduces Stylish New 10.1 Megapixel Digital Camera
EX-Z29 Offers Increased Portability and 23 Best Shot Modes to EXILIM Zoom Series of Digital Cameras
LAS VEGAS, NV, MARCH 3, 2009 — Casio America, Inc. and its parent company, Casio Computer Co., Ltd., introduced the latest addition to its stylish series of EXILIM digital cameras today, the EXILIM Zoom EX-Z29. This newest member of the EXILIM line features a stylish, slim and compact design to increase portability, and provides an improved 10.1 megapixels of image resolution with 3X optical zoom. The EX-Z29 will be on display at Casio's booth at the Photo Marketing Association International Convention and Tradeshow.
This new model stays true to the user-friendly features that have become standard to the EXILIM Zoom series. The 2.7-inch wide LCD display enables users to easily navigate camera operations and enhance the review of images, while the 23 Best Shot Modes and face detection technology help users take high quality photos without having to adjust camera settings.
"Casio is dedicated to creating digital cameras that feature superior technology while maintaining an ease of use for the consumer," said Bill Heuer, Vice President of Sales for Digital Imaging Division at Casio America, Inc. "We continue to be a leader in the digital camera industry, providing fun and convenient ways to capture quality photographs."
The EX-Z29 comes loaded with other useful features including Anti-Shake DSP which reduces photo blur from shaky hands or moving subjects, allowing users to shoot images with ease and confidence. Easy Mode simplifies the camera settings to three easy menus (image size, flash and self timer). With Easy Mode, the camera is set to take great photos in every situation without having to check presets or accidentally making a wrong adjustment. Casio's Face Detection Technology maintains a sharp focus and the correct exposure for the human face.
Available at retail in April, the EX-Z29 will be available in black, pink, blue, silver and purple with an MSRP of $149.99.
EXILIM EX-Z29
A sleek & sturdy digital camera with a compact design
Design achieves a lightweight, yet durable image
Designed to fit the concept of "Sleek & Sturdy," this camera has a compact form, measuring just 3.64" wide x 2.16" high x .91" thin. The edging that frames the body presents a light, casual feel, but at the same time gives the user the sense that this camera is tough and reliable. In addition, the camera color is not limited to a single hue. Rather, the control panel, frame, and rear casing boast contrasting colors, presenting a whole new idea in camera color schemes.
An effective 10.1-megapixel camera with a 3X optical zoom lens
In addition to offering the ability to reproduce a detailed image of the subject, this camera is very responsive and easy to operate. It has an effective 10.1-megapixel resolution, and delivers excellent performance. Images taken at high resolution can be enjoyed as beautiful photographs whether printed large or cropped before printing.
Easy-to-see 2.7-inch widescreen LCD
This camera features an easy-to-see widescreen 2.7-inch LCD monitor. Shooting information is shown in an "operating panel" on the right hand side of the screen, which makes it easy to quickly change camera settings while shooting.
Fun widescreen movie recording
Just by pressing the movie button, widescreen movies can be recorded with an aspect ratio of 16:9. The camera also offers YouTube Capture Mode, which records and saves movies at the ideal settings for the world's largest video sharing site, YouTube. Recorded video can be easily uploaded to YouTube using the special included computer software.
Customizable focusing frames and menu screens
Focus frames
As well as the rectangular focusing frame usually displayed on the LCD monitor, users can choose designs such as a heart or a butterfly for the frame design. When the camera is correctly focused, a beautiful heart can be displayed, and when correct focus is not achieved the heart pattern breaks up. This makes it easy to ensure correct focus, and it is fun, too.
Menu screens
Menu screens can be freely selected from a total of six colors — black, chocolate, cinnamon, rose, sky blue and olive green.