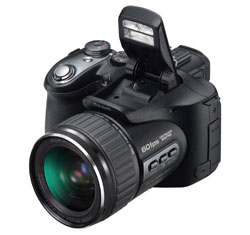 Casio Exilim Pro EX-F1
Casio has released new firmware for their Casio Exilim Pro EX-F1 compact camera. Verison 2.0 of the firmware let you use the new EX-F1 Controller application.
Read more about the new firmware and how to download it on the Casio website.
Information from Casio about the new firmware:
"EX-F1 Controller ("This Software") provides the following capabilities.
•Control of your EX-F1 camera from a computer connected to the computer with the USB cable that comes with the camera.
•Computer-control of High Speed Continuous Shutter, High Speed Movie, Interval Recording, and more.
Note
* This Software is intended for use with the CASIO EX-F1 digital camera only.
* This Software does not control all of the functions provided by the EX-F1 camera.
* In order to enable computer-control an EX-F1 camera, you must first update the camera with special firmware (Version 2.00) included in the download file.
Attention users in Russia and the Ukraine
Updating the firmware of your camera to Version 2.00 will cause your camera to lose its ability to display messages in Russian. Update your firmware to Version 2.00 only if you agree to lose Russian display messages. Note also that there are no plans to offer a Russian language version of firmware update Version 2.00."