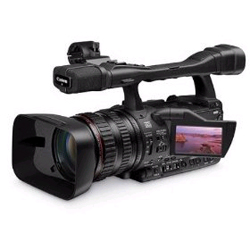 Canon XH A1S
Camcorder has reviewed the Canon XH A1S HDV camcorder. The Canon camcorder feature three 1/3-inch CCD sensors and records with HDV codec. With a price tag around $4000 it will be interesting to see how great the video quality is.
Some key features for the Canon XH A1S camcorder:
-Three 1/3-inch CCD sensors
-HDV codec
-20x HD lens (32.5 – 650mm)
-Canon DIGIC DV II HD Image Processor
-2.8-inch Widescreen LCD
Camcorder Info ends up giving the Canon XH A1S a pretty good review as you get quite a bit of features for the value, but there are other camcorders on the marked than can probably give you more for $4000. Tape-based media is a bit outdated and the reviewer thinks the build quality could be better, but the camcorder has a lot of adjustable features for being in this price class.
Read the full review of the Canon XH A1S HDV camcorder here.