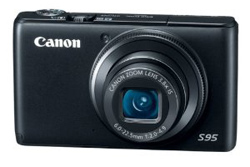 Canon PowerShot S95
Digital Camera Resource Page has reviewed a digital camera from Canon. The camera is called Canon PowerShot S95 and is pretty similar to a previous model from Canon, the S90.
Some key features for the Canon PowerShot S95:
-10 megapixel image sensor
-3.8x optical zoom lens (F2.0-4.9, 28 – 105 mm)
-Optical image stabilization
-3″ LCD screen
-720p HD video in stereo sound
-HDMI output
-Uses SD, SDHC and SDXC memory cards
The review website ends up giving the S95 a very good review and calls it one of the best compact cameras on the market. On the positive side the reviewer likes the excellent image quality, the fast and useful zoom lens, the optical image stabilization works great and its LCD screen is large and bright. There are some negative points like with all cameras and they include a poor redeye function, choppy videos under some conditions, poor battery life and no optical viewfinder. If you can live with these minor annoyances and want a compact in the top class the PowerShot S95 might be your choice.
Read the full review of the Canon PowerShot S95 digital camera here.