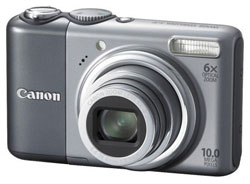 Canon Powershot A2000 IS
Lets Go Digital has reviewed the Canon Powershot A2000 IS compact camera. This budget friendly (it sells for about $180) camera features a 10 megapixel sensor and 6x optical zoom.
Some key features for the Canon Powershot A2000 IS:
-10 megapixel sensor
-6x optical zoom lens (36-216mm 35mm equivalent)
-3″ LCD screen
-image stabilization
Lets Go Digital ends up giving the Canon compact camera a "77% Recommended" rating. The Canon Powershot A2000 IS is able to take pictures of good quality at low ISO levels, but there you get some noise at ISO 400 and over. The reviewer also misses manual controls on the camera, but not all photographers need that.
Overall this Canon camera seems like a capable camera, but a bit lacking in some areas such as high ISO, flash and manual controls.
Read the full review of the Canon Powershot A2000 IS camera here.