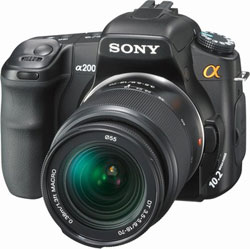 Sony Alpha A-200 DSLR
Dcresource.com has reviewed the new "mainstream" DSLR camera from Sony, the Sony Alpha A-200 DSLR. The A-200 sports a ten mega pixel APS size CCD, faster auto focus and bigger LCD screen than the A-100. The A-200 also have better noise control and supports a battery grip.
Dcresource liked the photo quality the A-200 were able to produce at lower ISO levels and when shooting in RAW-mode. The build quality seems to be very good and fits well in your hands.
What dsresource didn't like was the heavy noise filtering at higher ISO levels when shooting JPG giving the images a soft look. The kit lens (18-70mm) is also not the best.
Read the full review of the Sony A-200 here.