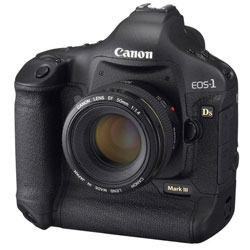 Canon EOS-1Ds Mark III DSLR
LetsGoDigital has reviewed Canon's flagship DSLR camera, the EOS-1Ds Mark III. This camera sports a full-frame 21.1 megapixel CMOS sensor and got a lot of new technology.
It doesn't come as a big surprise that LetsGoDigital give the Canon EOS-1Ds Mark III a praising review since this camera is definitely in the top class. So if you have that kind of money this seems like a safe buy to produce truly fantastic photos.
Read the full review of the Canon EOS-1Ds Mark III here.