Sony E 16mm f/2.8 SEL16F28 prime lens test / review by SLRgear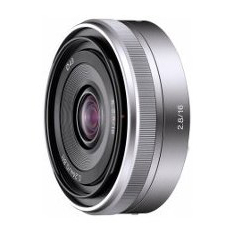 Sony E 16mm f/2.8 SEL16F28
SLRgear has tested a new prime lens from Sony that is used for their new E-mount cameras NEX-3 and NEX-5. The lens is called Sony E 16mm f/2.8 SEL16F28 and seems interesting as it is pretty wide starting at 16mm (24mm equivalent). The Sony prime lens uses 49mm filters and does not come with a lens hood.
SLRgear ends up giving the Sony E 16mm f/2.8 SEL16F28 a good review, but the Sony lens has a few shortcomings. If you are looking for a lens that makes NEX camera more pocketable this lens is your choice, but it comes with a pretty high price tag and it is a bit soft if you use it wide open at f/2.8. Hopefully Sony will produce more prime lenses for the NEX series in the future.
Read the full review of the Sony E 16mm f/2.8 SEL16F28 prime lens here.