Sony Cyber-shot WX5 digital camera review by Imaging Resource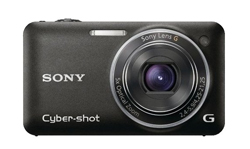 Sony Cyber-shot WX5
Imaging Resource has tested a digital camera from Sony. The Sony camera is called Sony Cyber-shot WX5 digital camera and features over 12 megapixels in addition to a wide angle zoom lens that starts at a nice 24mm and ends up at 120mm.
Some key features for the Sony Cyber-shot WX5:
-12.2 megapixel image sensor
-5x optical zoom lens (24-120mm)
-Optical image stabilization
-2.8″ LCD screen
-ISO sensitivity 125-3200
-Full HD 1080/60i AVCHD movies
-3D Sweep Panorama
Imaging Resource ends up giving the Sony Cyber-shot WX5 a good review as the camera is pretty good compared to other cameras in this class. On the positive side we find aspects such as a bright zoom lens, optical image stabilization, good colors, autofocus works fine and the 3D Sweep Panorama mode is nice. There are a few points that hinders the WX5 from getting a top score and they are blurry shots under some conditions and a bit heavy noise reduction. Over the Cyber-shot WX5 is a very good compact, but Sony should work on the blurry shots cause be the image stabilization.
Read the full review of the Sony Cyber-shot WX5 digital camera here.