Sony Cyber-shot DSC-TX7 test / review by Camera Labs – digital camera with 3.5″ touchscreen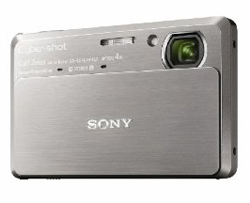 Sony Cyber-shot DSC-TX7
Camera Labs has tested the Sony Cyber-shot DSC-TX7 compact digital camera. This Sony camera features a large 3.5 inch touchscreen that should be great, but it remains to be seen if the image quality is up to par.
Some key features for the Sony Cyber-shot DSC-TX7:
-3.5″ touchscreen LCD
-10.2 megapixel Exmor R image sensor
-4x optical zoom lens (25-100mm)
-Image stabilization
-1080i AVCHD movie mode
-Uses memory stick memory cards
Camera Labs ends up giving the Sony Cyber-shot DSC-TX7 a "Recommended" rating with an overall score of 81%. The camera scores highest on specifications and build quality, pretty high on value while scoring lowest on image quality and handling. The reviewer likes the big LCD screen, but finds the camera body a bit hard to hold. Other positive points are fast shooting, high quality video recording and innovative auto modes. On the downside we find a limited zoom range and the noise reduction software can be harsh making photographs a bit soft.
Read the full review of the Sony Cyber-shot DSC-TX7 digital camera here.