Sony announces HDR-XR520V, HDR-XR500V, HDR-XR200V and HDR-XR100 digital camcorders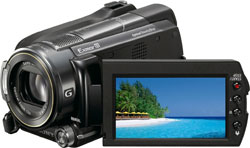 Sony HDR-XR520V
Sony has announced four new HD camcorders called HDR-XR520V, HDR-XR500V, HDR-XR200V and HDR-XR100. They have respectively 240GB, 120GB, 120GB and 80GB hard drives. The Sony digital camcorders also feature 1920×1080 high-definition video recording and up to 12-megapixel still image capture.
The Sony HDR-XR520V, HDR-XR500V, HDR-XR200V and HDR-XR100 will begin shipping in March for about $1500, $1300, $1000 and $750, respectively.




Press release:
Sony Adds Breakthrough Technologies To HD Camcorder Line
New Models Combine Exmor R CMOS sensor, Sony G Lens and BIONZ Processor For Unparalleled Imaging Quality
LAS VEGAS (CES BOOTH #14200), Jan. 7, 2009 – As a leader in the high-definition camcorder category, Sony is introducing four hard disk drive Handycam® camcorders with high-performance optics, large storage capacity and advanced technologies.
The HDR-XR520V, HDR-XR500V, HDR-XR200V and HDR-XR100 camcorder models preserve content in high resolution with 1920×1080 high-definition video recording and up to 12-megapixel still image capture.
The flagship model includes a 240GB hard drive that holds up to 101 hours of HD video (LP mode), embedded GPS, a back-illuminated Exmor R™ CMOS sensor, and improved optical image stabilization.
"Sony will continue to lead the high-definition camcorder segment with our strong new lineup," said Kelly Davis, director of camcorder marketing at Sony Electronics. "These models represent Sony's top of the line camcorders, delivering innovative features and advanced optics for unprecedented picture quality."
High-Performance Optics
Offering a refined level of optical performance, the new Sony high definition camcorders combine an Exmor R CMOS sensor, the Sony G Lens and a BIONZ processor.
The HDR-XR520V and HDR-XR500V models are the first camcorders to use a back-illuminated Exmor R CMOS sensor. Because the wire circuitry is placed behind the sensor's photo detectors, the camcorders provide stunning low light performance with approximately twice the sensitivity compared to Sony's existing front-illuminated CMOS sensor at F2.0. This results in brilliant image clarity and reduced grain.
These two camcorders feature a Sony G lens that incorporates advanced optics and low-dispersion aspheric glass elements for accurate color production and sharp, detailed images. A six-blade iris produces circular "bokeh" defocus effects for creative shooting possibilities.
A high-speed BIONZ imaging processor handles massive amounts of high resolution data from the Exmor R CMOS sensor for quick response and extraordinary picture quality.
The models also have an improved Optical Steady Shot™ feature with Active Mode, which allows a moveable lens element to shift with a greater range of motion during camera shake. This results in dramatically smoother video footage and photos.
Large Storage Capacity
The HDR-XR520V, HDR-XR500V, HDR-XR200V and HDR-XR100 camcorders offer extremely long recording times with hard drive capacity of 240GB, 120GB, 120GB and 80GB, respectively. In addition to a built-in hard drive, the models can also record content to optional Memory Stick PRO Duo™ media.
Sony's new 16GB PRO-HG Duo HX Memory Stick® media (model MS-HX16G) offers extremely quick data transfer rates with the ability to transfer approximately one hour of high definition video from the camcorder to the PC in about six minutes.
Sophisticated Technologies
Making it easy to retrace your steps by shooting location, the HDR-XR520V, HDR-XR500V and HDR-XR200V camcorders feature a built-in GPS antenna and NAVTEQ® digital maps for video and photo geo-tagging. Geo-tagged content is marked by a push pin at each shot location and can be played back on the camcorder map index display or enjoyed on the PC using the included Picture Motion Browser software. The feature also highlights your current map location and automatically adjusts the camcorder clock to the proper time zone.
All new models feature Smile Shutter™ technology, which automatically detects faces and takes photos as your subject smiles, even while shooting HD video. In addition to Face Detection technology, the camcorders are packed with powerful features including Dolby® Digital 5.1-channel surround sound recording, a built-in zoom microphone and up to 3.2-inch wide (measured diagonally) touch-panel LCD screens.
Improved Post-Shooting Experience
Developed for viewing special moments on your television with family and friends, the Highlight Playback mode on the HDR-XR520V, HDR-XR500V and HDR-XR200V models personalize your video footage by generating a video slideshow with theme transitions and background music. You can also add your own MP3 music files using the included software.
All models ship with the latest version of Picture Motion Browser software to easily view, organize, and upload images to many major video and photo sharing Web sites.
Standard Definition
Complementing these high-definition camcorders, Sony is updating its standard-definition, hard-drive line with three new models. They have up to 60X optical zoom, hybrid movie recording to Memory Stick PRO Duo™ media (sold separately), large built-in hard drives and 2.7-inch (measured diagonally) wide LCD touch panel screens. Additionally, the DCR-SR87 includes a 1-megapixel CCD imager and the DCR-SR47 model comes in three color variations (red, blue and silver).
The 80GB DCR-SR87, 80GB DCR-SR67 and 60GB DCR-SR47 camcorders work with Sony's new DVDirect® Express DVD writer, model VRD-P1, offering a quick and easy way to transfer home videos directly to DVD without a computer. By attaching the DVDirect Express via its built-in USB cable to compatible Handycam camcorders, it can transfer video to DVD for playback on most home DVD players. The VRD-P1 unit will be available this month for about $150.
Availability
The HDR-XR520V, HDR-XR500V, HDR-XR200V and HDR-XR100 will begin shipping in March for about $1500, $1300, $1000 and $750, respectively. The DCR-SR87, DCR-SR67 and DCR-SR47 will begin shipping in February for about $500, $450 and $400, respectively. The MS-HX16G 16GB Memory Stick® media card will ship in March for around $140. Camcorders and accessories will be available at Sony Style® retail stores, online through www.sonystyle.com, at authorized dealers and military base exchanges nationwide.