Sony Alpha NEX-5 test / review by Imaging Resource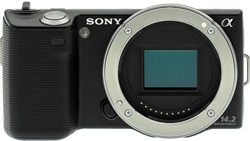 Sony Alpha NEX-5
Imaging Resource are very early this time with their reviews. They have already reviewed the Sony Alpha NEX-5 that will be released in the summer of 2010. The NEX-5 is the mirrorless digital camera with interchangeable lenses answer from Sony to the Mirco Four Thirds cameras from Olympus and Panasonic, and the Samsung NX-10 camera.
Some key features for the Sony Alpha NEX-5:
-Mirrorless digital cameras with interchangeable lenses
-14.2 megapixel Exmor APS HD CMOS sensor
-3″ tilt LCD screen
-ISO sensitivity 200-12800
-1080i AVCHD video recording
-3D Sweep Panorama mode
Imaging Resource ends up giving the Sony Alpha NEX-5 a very good overall score and it even gets a "Dave's Pick" reward. On the positive side the reviewers find the Sony to have a very compact design, takes good pictures at high ISO levels, comfortable hold and high resolution tilting LCD screen. On the negative side we find that the lenses has some corner softness, some chromatic aberration, poor macro abilities and a cumbersome menu. Overall the NEX-5 seem like a very good competitor to the Micro Four Thirds cameras especially when you look at the price. It is nice to see that Sony pushes the market forward.
Read the full review of the Sony Alpha NEX-5 camera here.