Sigma DP1 compact digital camera review by PopPhoto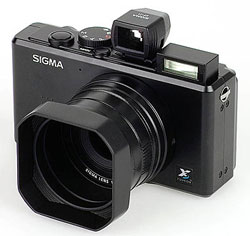 Sigma DP1
PopPhoto has reviewed the new interesting compact camera from Sigma called DP1. What is interesting about this camera is that Sigma has put DSLR type sensor in a compact camera.
Some key features for the Sigma DP1:
-Foveon 14 megapixel X3 sensor
-16.6 mm F4.0 lens (28mm equivalent)
-2.5" LCD screen
-Support for RAW files
PopPhoto ends up giving the camera a very good review due to the excellent image quality the DP1 is able to produce, even up to ISO 800. The lens quality is also very good and the design looks stylish.
On the downside the auto focus system could have been faster, there is not image stabilization and a zoom lens would be nice.
All in all this seems like a very good camera for the more professional photographers (the DP1 costs $800) out there looking for a compact camera.
Read the full review of the Sigma DP1 here.