Sanyo announces Sanyo VPC-E1403 digital camera records videos at rate of 30fps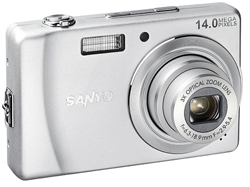 Sanyo VPC-E1403
Sanyo has announced a new digital camera called Sanyo VPC-E1403. The Sanyo camera features 14 megapixels which should be enough for most photographers. The camera also has a large 3″ LCD screen, 3x optical zoom in addition to HD video.
Some key features for the Sanyo VPC-E1403:
-14 megapixel image sensor
-3″ LCD screen
-3x optical zoom lens
-Records videos at 30 fps
-High definition video at 720p
-Blink detection
-Metal housing
-Three year warranty
The Sanyo VPC-E1403 will be on the market in June 2010 and cost about €129.

Press release:
Classic and refined: the new E1403 digital camera from SANYO
A host of functions offering optimum value for money
Munich, 28 June 2010——The new VPC-E1403 digital camera from SANYO exudes pure style in its shimmering metal housing. Its slim and compact dimensions (99 x 56.8 x 18.8 mm) mean it is always close at hand to capture those magic moments. The 14-megapixel resolution ensures every detail is caught to precision. The E1403 also cuts a fine figure when filming, recording videos in high definition at 720p, while the large 3 inch TFT LC colour display is ideal for reviewing images.
Refinement in detail
The E1403 from SANYO takes pictures in loving detail at resolutions of up to 14 megapixels. The compact camera also features an HD video function to record films in 720p (1,280 x 720 pixels, 30 fps). Plus, the 3x optical zoom brings even distant objects crystal-clear to the 3 inch TFT LC colour display. A host of macros with preset parameters for landscapes, sports or fireworks ensure that whatever the theme, it appears in its true light. Smile and blink recognition are included for perfect portraits. That's because the E1403 recognises smiling faces itself and takes the snap automatically, without you having to press the release. If someone blinks when the shutter closes, the photographer is alerted by the blink recognition and can take another shot. The digital image stabiliser cancels out blurs, and the high light sensitivity of ISO 6400 means the E1403 can overcome unfavourable lighting conditions.
Equipped for photo odysseys
The cameras saves your work to an SD or SDHC card and the high-capacity lithium-ion battery inside the E1403 supplies enough power for up to 180 pictures. It is easily connected to a computer with a USB cable and with an AV cable, you can even view your favourite memories on your television too.
Pricing, availability and warranty
The manufacturer's recommended retail price (incl. VAT) for the E1403 is €129. The digital camera in silver (VPC-E1403EX) is on sale as of June. SANYO offers a three-year guarantee on its cameras.
Key technical data at a glance
VPC-E1403
– 14 megapixel stills
– High-definition video clips in 720p (1,280 x 720 pixels, 30 fps)
– 3x optical zoom
– 3 inch TFT LC colour display
– up to ISO 6400
– Digital image stabiliser
– Data storage on SD card, compatible with SDHC cards
– USB and AV ports
– Power supply: Lithium-ion battery
– Weight: 105 g (without battery)
– Dimensions: 99 x 56.8 x 18.8 mm (WxHxD)
– Metal housing
– Compatible with Windows 7