Samsung WB1000 test / review by Trusted Reviews – digital camera with 3″ AMOLED screen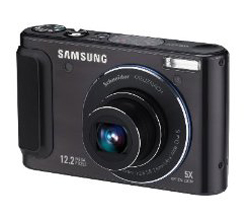 Samsung WB1000
Trusted Reviews has tested the new Samsung WB1000 digital camera. This camera from Samsung features a large AMOLED screen and a nice wide angle zoom lens made with Schneider optics.
Some key features for the Samsung WB1000:
-12 megapixel image sensor
-5x optical Schneider zoom lens (24-120mm)
-3″ AMOLED screen
-Image stabilization
-HD movie mode
Trusted Reviews ends up giving Samsung WB1000 a "Trusted Reviews Recommended" award and an overall score of 9 out of 10 points. The WB1000 get a perfect score on value and features, almost perfect on build quality and a little lower on image quality. Overall this is a great camera with lots of nice features. The AMOLED screen is wonderful and the same can be said about the build quality. The only downside is a bit poor image quality at higher ISO levels.
Read the full review of the Samsung WB1000 digital camera here.