Samsung ST96 compact digital camera test / review by Photography Blog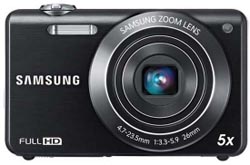 Samsung ST96
Samsung seems to be working hard to be a popular camera brand. Here Photography Blog has reviewed a new compact digital camera from Samsung called Samsung ST96 that has over 14 megapixels and a wide angle zoom lens starting at 26mm.
Some key features for the Samsung ST96:
-14.5 megapixel image sensor
-5x optical zoom lens (26-130mm)
-2.7″ LCD screen
-1080p HD video recording at 30 frames-per-second
-Advanced Samsung Smart Filter technology
-Digital and optical image stabilisation
Photography Blog ends up giving the ST96 a "Recommended" rating with an overall score of 4 stars out of 5 possible. The Samsung camera scores highest on value for your money, features and ease of use, while it scores a little lower on image quality and design. If Samsung had worked a bit harder on the image quality I'm sure this cheap compact camera would be a hit, but right now it is just another budget camera out there on the packed market.
Read the full review of the Samsung ST96 compact digital camera here.