Samsung ST5000 / Samsung TL240 test / review by Trusted Reviews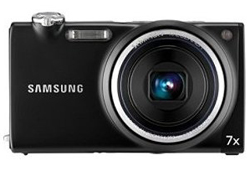 Samsung ST5000 / Samsung TL240
Trusted Reviews has tested another camera from Samsung. This time they have reviewed a Samsung called Samsung ST5000 (it is called Samsung TL240 in some markets). Among the camera features we find an image sensor with a massive 14 megapixels and a large 7x zoom range.
Some key features for the Samsung ST5000 / Samsung TL240:
-14.2 megapixel image sensor
-7x optical zoom lens (31-217mm)
-3.5″ LCD screen
-720p HD video
-Dual image stabilization (optical and digital)
-Uses MicroSD and MicroSDHC memory cards
Trusted Reviews ends up giving the Samsung camera a nice review with an overall score of 8 out of 10 points. The ST5000 actually scores 8 out of 10 on all points: image quality, build quality, value for your money and features. The only major flaw that might bother some photographers is that the lens is not wide at all as it starts at 31mm. This might be a letdown if you are going to use it as a landscape camera.
Read the full review of the Samsung ST5000 / Samsung TL240 here.