Samsung PL60 compact digital camera test / review by CNET UK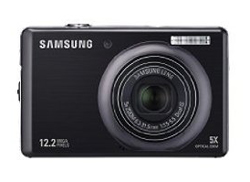 Samsung PL60
CNET UK has reviewed a compact digital camera from Samsung. The camera is called Samsung PL60 and feature 10.2 megapixels and 5x optical zoom that is stabilized.
Some key features for the Samsung PL60:
-10.2 megapixel image sensor
-5x optical zoom lens (35-175 mm)
-Optical image stabilization
-2.7″ LCD screen
-ISO sensitivity from 80 to 3200
-Face detection
-Smile detection
-40MB internal memory
CNET UK ends up giving the Samsung PL60 a 7.1 out of 10 score. The reviewer likes the stylish design, how the controls are handled and you get a good deal of camera for the money you are paying, but there are a few drawbacks like noise at higher ISO levels and the zoom range is not wide at all. Overall the PL60 seems like an average compact camera that does not really stand out from the competition.
Read the full review of the Samsung PL60 camera here.