Samsung PL150 / Samsung TL210 digital camera test / review by Buy n Shoot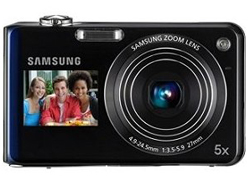 Samsung PL150 / Samsung TL210
Buy n Shoot has reviewed the Samsung PL150 (known as Samsung TL210 in some markets) digital camera. This camera from Samsung has over 12 megapixels and feature a front LCD screen that makes it easier to take self-shots which are very popular on social media websites like Flickr and Facebook.
Some key features for the Samsung PL150 / Samsung TL210:
-12.4 megapixel image sensor
-5x optical zoom lens (27-135mm)
-Image stabilization
-720p HD video
-3″ rear touchscreen
-1.5″ Front LCD screen
Buy n Shoot ends up giving the Samsung PL150 / Samsung TL210 a "Gold Medal" rating. The camera scores highest on view finder / LCD screen, almost top score on functionality and value for your money while scoring a bit lower on lens quality, image quality and design. Overall the PL150 seems like a fun camera especially if you want to upload pictures to the net and do not the best image quality on the planet.
Read the full review of the Samsung PL150 / Samsung TL210 digital camera here.