Samsung NX11 large-sensor mirrorless interchangeable lens camera test / review by Photography Blog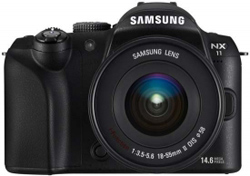 Samsung NX11
Photography Blog has reviewed the newest mirrorless interchangeable lens camera from Samsung. The camera is called Samsung NX11 and has a big 14.6 megapixel sensor that should make this Samsung camera a worthy competitor to the successful Micro Four Thirds cameras.
Some key features for the :
-Mirrorless interchangeable lens camera
-14.6 megapixel APS-C sized CMOS sensor
-3″ AMOLED screen
-Records 720p HD movies
-Supersonic Dust Reduction
Photography Blog ends up giving the NX11 a "Highly Recommended" rating and an overall score of 4.5 out of 5 possible stars. The digital camera scores highest on image quality and value for your money where it gets a perfect score. It scores a little lower on ease of use and design, while it scores lowest on features. The reviewer finds the NX11 to be the best system camera from Samsung yet and it seems like Samsung is handling the competition from Panasonic and Olympus very well. The feature looks very good if the interchangeable systems keep on producing such good cameras.
Read the full review of the Samsung NX11 large-sensor mirrorless interchangeable lens camera here.