Samsung HZ15W (WB550) test / review by Digital Camera Resource Page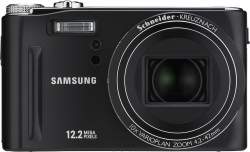 Samsung HZ15W
Digital Camera Resource Page has reviewed the Samsung HZ15W (also known as WB550 in some countries) compact digital camera. The HZ15W feature 12 megapixels and a long 10x optical zoom lens.
Some key features for the Samsung HZ15W:
-12 megapixel sensor
-10x optical zoom lens (24 – 240mm)
-3″ LCD screen
-720p movie mode
-built-in HDMI connectivity
The reviewer at Digital Camera Resource Page gives the Samsung HZ15W a pretty average score as the camera has lots of nice features, but it also some downsides. On the positive side the reviewer finds that the HZ15W has a useful zoom range, big LCD screen and produces pictures with good color and exposure. There are some downsides like heavy noise reduction even at lower ISO levels making the pictures a bit soft, poor low light focusing and limited manual mode.
Read the full review of the Samsung HZ15W camera here.