Samsung announces Samsung ST1000 digital camera – 3.5″ touch LCD screen with 1152k pixels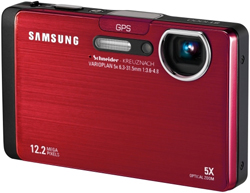 Samsung ST1000
Samsung has announced some new interesting compact digital cameras today. The first one is called Samsung ST1000 and feature a big 3.5″ LCD screen with 1152k pixels resolution. It also feature GPS for geo-tagging, Bluetooth 2.0 and Wi-Fi and 12.1 megapixels.
Some key features for the Samsung ST1000:
-3.5″ touch LCD screen with 1152k pixels resolution
-Bluetooth 2.0 and Wi-Fi
-GPS for geo-tagging
-12.1 megapixel sensor
-5x optical zoom lens (35-175mm)
-HD-video recording
The Samsung ST1000 camera will be available late in August 2009, but it is not known how much it will cost.

Press release:
SAMSUNG DIGITAL IMAGING INTRODUCES THE WORLD'S FIRST MULTI-WIRELESS DIGITAL COMPACT CAMERA – ST1000
Capture and share pictures on-the-go with built-in '3 Wireless Connectivity'
13th August 2009 – Samsung Digital Imaging, leaders in innovation and technology, today unveiled the ST1000 camera with never before seen built-in geo-tagging, Bluetooth 2.0 and Wi-Fi* connectivity. Offering consumers an 'always on' experience, users can now send and post pictures almost as quickly as they take them, whilst the GPS capabilities will keep track of exactly where each picture was shot.
Multi-Wireless Connectivity
Thanks to the in-built GPS, the ST1000 displays the city name and region on the camera's LCD screen, providing users with a real-time display of their location and reference for when they are reviewing and managing images.
Using Bluetooth 2.0 technology, users can wirelessly beam their favourite images to other compatible mobile phone devices. With the Wi-Fi technology, users can email photos direct from their camera and upload their photos or videos to selected popular social networking websites including Facebook, Picasa, YouTube, without needing to connect to a PC. The ST1000 is also DLNA compliant (Digital Living Network Alliance), allowing users to wirelessly connect the camera to other DLNA compliant devices, such as HDTVs, digital picture frames, media servers or gaming systems in their networked home to view and share their precious moments.
The ST1000 comes with the 'intelli-studio' PC software package embedded in the camera itself. The software can be used for viewing, editing and managing pictures and the clever part of it being built into the camera means it automatically loads onto your computer when you connect your camera to it. Through the intelli-studio software users can then easily pinpoint their images and link to popular social media photo-sharing sites, such as Google Earth and Google Maps**.
"This new powerhouse point-and-shoot camera will raise the bar for innovation and set a new standard by which all other manufacturers will be measured," said Steve Mitchell, General Manager Marketing for Samsung Digital Imaging.
"Never before has a manufacturer provided such a range of technologies in a compact digital camera, giving consumers unprecedented flexibility when it comes to how, when and where they share their digital images,"
Packed full of innovation and encased in a sleek compact frame, the ST1000 sports the world's highest resolution 3.5" Wide touch screen LCD*** at 1152k pixels, with almost four times the size of many other cameras, giving an enhanced viewing experience.
Smart Gesture User-Interface
Showcasing further innovations, a Smart Gesture User Interface (UI) with built-in orientation sensor, means a simple tap or hand gesture allows users to access key features quickly.
Smart Touch Auto Focus
The 12.2 megapixel ST1000 comes with a powerful 35mm and 5x optical zoom lens, providing clean and clear images with even resolution from the centre of images to the edges.
Additionally, the camera's touch screen user interface provides users with Samsung's innovative and intuitive Smart Touch Auto Focus system. This puts complete command of the camera's focusing system right at the photographers' fingertips, allowing them to pinpoint the exact area they wish to lock their focus on by simply touching the location on the LCD screen. Users can also automatically trigger the camera to then take the image by continuing to hold the location with their fingertip.
Smart Auto (Scene Recognition)
Take professional-looking photos with Samsung's advanced Smart Auto feature so you never have to worry about your photos being washed out, too dark or out of focus. Smart Auto analyzes key elements of your composition such as colour, brightness, motion and subject and then automatically adjusts to take the perfect shot.
Smart Face Recognition
Samsung's innovative Smart Face Recognition technology actually remembers faces it sees frequently and then prioritises them when focussing and exposing future shots. It can store up to 20 recognised faces in the cameras' internal memory and allows users to search for their favourite faces in playback. This can be done quickly by using the 'Face' search in Smart Album, instead of viewing every single photo on the memory card.
In "Blink Detection Mode" the camera will take a series of shots when closed eyes are detected so everyone is captured with their eyes open; in "Smile Mode" a picture is automatically taken when smiles are detected and, in "Beauty Shot" mode, facial skin is retouched to three different user defined levels for brighter and smoother skin tones.
HD Movie Recording
The ST1000 records HD video in 1280x720p resolution, and at 30 frames per second in H.264 format. This format allows more than twice as much recording capacity as the MP4 format, so gives you more room on your memory card for images and movies. The ST1000 also features HDMI connectivity via an optional adapter, so you can see your HD video creations in glorious HD on an HD TV.
The ST1000 is available in silver/red, black/black, red/black, black/gold and blue/grey colours. All will be available from leading high street and online retailers from late August 2009. Samsung Cameras include a one year warranty. Customers requiring further information should call 0845 726 7864 or visit samsungcamera.co.uk