Samsung 1000P 10-Inch Digital Photo Frame test / review by Trusted Reviews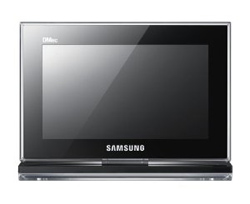 Samsung 1000P
Digital photo frames are pretty popular nowadays as almost everyone owns a digital camera or camcorder. Trusted Reviews has tested a 10″ digital photo frame from Samsung called Samsung 1000P that are able to show off your pictures and videos.
Some key features for the Samsung 1000P:
-Resolution 1024 x 600
-2GB internal memory
-Supports SD and SDHC memory cards
-Weighs 750g
-Dimension: 302 x 262 x 87mm
-Bluetooth 2.0 connectivity
Trusted Reviews ends up giving the Samsung photo frame an overall score of 7 out of 10 possible points. The frame scores highest on design, features and image quality while it scores lower on value for your money. The 1000P is able to show off your work at high quality and its looks are very good too. The only downside is a high price tags and a few quirks.
Read the full review of the Samsung 1000P 10-Inch Digital Photo Frame here.