Rollei announces Rollei Flexipod 100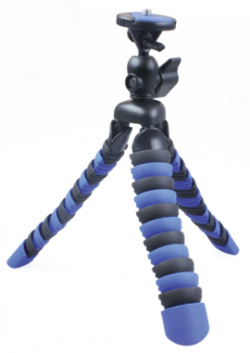 Rollei Flexipod 100
Rollei has announced a new flexible tripod called Rollei Flexipod 100. This tripod has rubber legs so it does not slip and rubber limbs can be rotated 360°. The Rollei weighs a little over 100 g and measures 200 x 40 x 40 mm which should make it easy to bring along on photo trips. It is advised that the tripod can be used with camcorders and still cameras up to 800 g.
The Flexipod 100 will come in several colors including pink, blue, red, green and grey and be released on the market in January 2011 for about €15.

Press release:
A tripod for every occasion: Flexipod 100
Hamburg, 2 December 2010
The new Flexipod 100 from Rollei presents an extremely flexible camera tripod, which can be used pretty much everywhere, as its flexible, rubber feet adapt to any surface perfectly.
Bothersome readjustments of the tripod are therefore a thing of the past! No matter where you want to position it, on soft ground or uneven surfaces for example, the slender rubber tripod can be positioned securely anywhere thanks to its rubber limbs that can be bent and rotated through 360°. It can even be attached to a door handle! The rubber-tipped support feet ensure that the tripod doesn't slip when placed on horizontal surfaces, making it ideal for use outdoors.
The Flexipod 100 is especially suitable for nighttime and time-lapse shots, as well as family portraits using a self-timer function in your own living room. Portrait, landscape and macro shots are also a cinch thanks to the small clamp mounts, which can even be used to attach the tripod to a tree. Its compact size of 200 x 40 x 40 mm and a weight of just 102 grams also make it easy to transport and stow. The Flexipod 100 is therefore the ideal accessory for holidays, hiking tours and sports events.
Compact cameras and mini camcorders with a weight of up to 800 g can be attached to the quick release plate with a 1/4-inch tripod socket. The Flexipod 100 will be available as of the end of January 2011 in pink, blue, red, green and grey for 14.95 euros (RRP).