Ricoh R8 compact digital camera review by dpreview.com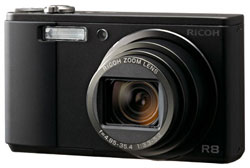 Ricoh R8
Dpreview.com has reviewed the new compact digital camera from Ricoh called R8. This stylish camera features a new high-resolution 10 mega pixel CCD, 7.1x optical zoom (28-200mm equivalent) and a 2.7″ screen with a resolution of 460,000 pixels.
Dpreview ends up giving the Ricoh R8 camera a "recommended" rating, but it seems like this camera has quite a few shortcomings. The camera has a pretty harsh noise reduction that smears the details even at low ISO and the focus is not the best. The built in flash is also a pretty bad performer.
The best things about this camera is the stylish retro look and the compact size for its zoom range.
Read the full review of the Ricoh R8 here.