PLANon PrintStik PS910 portable printer test / review by Trusted reviews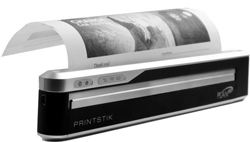 PLANon PrintStik PS910
PLANon PrintStik PS910 is a small portable printer that you can fit into your laptop bag. Trusted Reviews has tested the quality of this small printer and it is interesting to see if it acutally can keep what it promises.
Some key features for the PLANon PrintStik PS910:
-Monochrome
-Print resolution: 200 x 200 dpi
-USB connectivity
-Weight under 400g
-Portable
Trusted Reviews ends up giving the PLANon PrintStik PS910 a lukewarm score with 6 out of 10 points. The printer scores highest on print speed and quality while scoring lower on value and lowest on print quality. Since the print quality is pretty bad the reviewer suggests that you use other printers if you absolutely need a portable printer, but the PrintStik printer is at least a cool idea.
Read the full review of the PLANon PrintStik PS910 portable printer here.