Pentax Optio WS80 test / review by Trusted Reviews – budget waterproof camera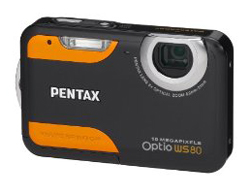 Pentax Optio WS80
Pentax Optio WS80 is a waterproof compact digital camera that has a lower price compared to other waterproof models. Trusted Reviews has tested the WS80 to let us know how the quality is.
Some key features for the Pentax Optio WS80:
-10 megapixel image sensor
-Waterproof down to 5 feet
-5x internal optical zoom lens (35-175mm)
-2.7″ LCD screen
-HD video quality 1280 x 720 30fps
Trusted Reviews gives the Pentax Optio WS80 an overall score of 7 out of 10 points. The camera scores highest on build quality, features and value while scoring pretty low on image quality. The Optio WS80 has a very nice body and autofocus system, but could have worked a bit on the image quality. Looks like a nice camera for photographers that have an active lifestyle and do not want to use too much money on a compact camera.
Read the full review of the Pentax Optio WS80 camera here.