Pentax Optio RS1000 digital camera with changeable covers test / review by CNET UK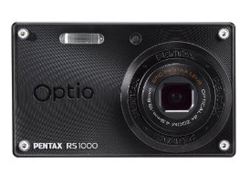 Pentax Optio RS1000
Pentax Optio RS1000 is an interesting little camera as you can change the covers on the camera making it look pretty unique. CNET UK has reviewed this Pentax camera that also has plenty of megapixels and a 4x optical zoom lens.
Some key features for the Pentax Optio RS1000 :
-14.1 megapixel image sensor
-4x optical zoom lens (28-110mm)
-3″ LCD screen
-Widescreen 720p HD video at 30 frames per second
-Uses SD and SDHC memory cards
CNET UK ends up giving the Pentax Optio RS1000 an overall score of 3.5 stars out of 5 possible. The Pentax camera gets positive points on aspects such as good price tag, stylish look, good camera body, easy to use and the image quality is better what you can expect from such a low price tag. The RS1000 has some negative points too and they include that you can not use zoom while recording video, short battery life and you do not get much of manual controls. Overall it seems like a good enough camera if you want to change the covers on your digital camera.
Read the full review of the Pentax Optio RS1000 digital camera here.