Pentax K-x test / review by Photography Blog – Budget DSLR camera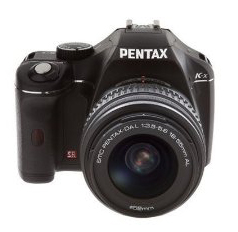 Pentax K-x
Photography Blog has tested a new DSLR camera from Pentax, the Pentax K-x. This DSLR is targeted at the entry-level marked, but has a lot of nice features.
Some key features for the Pentax K-x:
-12.4 megapixel image sensor
-2.7″ LCD screen
-HD video mode, 720p at 24fps
-ISO sensitivity 100-12800
-Live View
-Face detection
-4.7 fps
-11 point autofocus system
Photography Blog ends up giving the Pentax K-x an "Essential" 5 out 5 stars rating. The reviewer gives the Pentax camera such a nice review because the camera has many great features and the camera body is small. In addition it is able to produce pictures of good quality and the addition of HD movie is a winner too. It seems like Pentax has produced a quality camera with the K-x DSLR. It remains to be seen how the marked responds to this nice camera.
Read the full review of the Pentax K-x DSLR camera here.