Pentax K-7 review / test by Photography Blog – weatherproof DSLR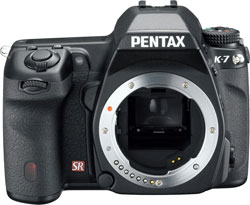 Pentax K-7
Photography Blog has reviewed the latest DSLR camera from Pentax, the Pentax K-7. This exciting new DSLR has a lot of new features like environmental sealing and HD video recording.
Some key features for the Pentax K-7:
-14.6 megapixel sensor
-environmental sealing
-720p HD video
-top shutter speed 1/8000 second
-3.0″ 920,000 dot LCD screen
-ISO sensitivity from 100 to 6400
Photography Blog ends up giving the Pentax K-7 a "Highly Recommended" rating as the camera is able to take pictures of high quality and has a lot of nice features. One downside is a bit of noise over ISO level 400, but Photography Blog reviewed a preproduction copy of the camera so the noise might be improved in the final release.
Seems like an excellent choice for more serious photographers.
You can read the full review of the Pentax K-7 camera here.