Pentax announces K-7 DSLR camera with 720p HD video and environmental sealing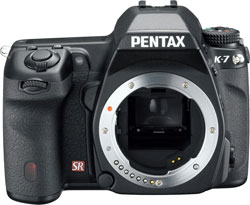 Pentax K-7
Pentax has announced an exciting new DSLR camera called Pentax K-7. The Pentax K-7 is packed with features including improved environmental sealing, 720p HD video, a 14.6 megapixel sensor, 5.2 fps shooting and much more. All the features combined with a pretty small camera body should make this Pentax camera a strong contender in the semi-pro DSLR marked.
Some key features for the Pentax K-7:
-14.6 megapixel sensor
-environmental sealing
-720p HD video
-top shutter speed 1/8000 second
-3.0″ 920,000 dot LCD screen
-ISO sensitivity from 100 to 6400
The Pentax K-7 will be available in July 2009 and cost about $1300 for the body only.

Press release:
Pentax Introduces Advanced Pentax K-7 Digital SLR
New Camera Boasts Variety of Technological Firsts and Major Improvements Over Previous K Series Cameras
GOLDEN, CO. (May 20, 2009)…PENTAX Imaging Company announced today the launch of the PENTAX K-7 digital SLR camera. This latest PENTAX K series camera is designed for advanced photographers seeking high-end design and features without the cost of a professional DSLR system. The PENTAX K-7 features a rugged, yet compact new body design, a new 14.6 megapixel CMOS sensor rebuilt from the ground up, and advanced features such as HD Movie Capture and new, unique-to-PENTAX camera controls. Compatible with every PENTAX lens ever made, the high-end K-7 features an abundance of long-anticipated new and improved features that are exclusive to the camera and combine to make it a tremendous photography tool.
"The K-7 will appeal to many current PENTAX SLR photographers who have been asking for more advanced features, but in a smaller, solid, comfortable-to-hold body," said Ned Bunnell, president, PENTAX Imaging Company. "We also believe the combination of the K-7's smaller, high quality construction coupled with the growing line-up of our Limited compact prime lenses will appeal to serious shooters who currently don't own or previously hadn't considered adding a PENTAX to their camera bag."
The most significant features of the PENTAX K-7 that have never been offered before in any K series digital camera, and in some cases any camera, include:
*
A compact, magnesium alloy body that is one of the smallest in the advanced photo enthusiast category to reduce bulk and allow users to travel light while maintaining durability and build quality (seven percent smaller than the K20D and up to 25 percent smaller than other cameras in the same class).
*
A new 14.6 megapixel CMOS sensor rebuilt from the ground up to minimize noise, adds four channel output for fast image capture, and the ability to capture HD quality movies. It is the ideal combination of resolution and file size, allowing very large (poster size and larger) prints and cropping flexibility.
*
A new 77-segment metering system quickly and accurately determines exposure for even the most complex and dynamic lighting situations.
*
HD Movie capture features adjustable quality and resolution settings, aperture control, as well as mechanical Shake Reduction, and an external microphone terminal for recording stereo sound.* The K-7 will capture video at the default standard of 1280×720 resolution with a 16:9 aspect ratio (equivalent to 720p), 1536×1024 resolution with a 3:2 aspect ratio, or 640×416 resolution with a 3:2 aspect ratio (equivalent to VGA quality), all shot at 30 frames per second.
*
An HDMI port with selectable output resolution (1080i, 720p, 480p, and auto) offers high resolution playback of images and video on modern high definition TV's.
*
A Dedicated AF-assist lamp further improves autofocus response and accuracy in low light conditions.
*
An Electronic Level function ensures that images have truly level horizons to minimize post-capture editing.
*
An innovative in-camera Lens Correction function that electronically adjusts for Distortion and Lateral Chromatic Aberrations to maximize image quality with DA series lenses.
*
A dedicated Mirror Lock-up function eliminates image blur due to mirror movement during long exposures.
*
A High Dynamic Range (HDR) image capture mode captures three images then combines them in camera to widen the exposure gamut to bring out detail in all exposure areas of images.
*
A composition adjustment feature in Live View allows minor shifts in the framing and composition of images using the Shake Reduction mechanism without having to physically move the camera. This feature is ideal for tripod use.
*
A programmable embedded copyright function preserves artistic integrity and image ownership during capture via a keypad that may record ownership in metatag data.
*Due to the compact size of the K-7 camera and the in-body Shake Reduction mechanism, a camera mounted microphone is a highly recommended accessory for optimal audio quality when capturing video.
A variety of K series camera features that are significantly improved in the PENTAX K-7 include:
*
A striking 3 inch LCD with 921,000 dot resolution is perfect for detailed image or movie capture and review using the Live View function.
*
A weather, dust and cold resistant (to 14° F or -10° C) body makes the K-7 the perfect camera for use in any environment, inside the studio or when travelling in any weather.
*
Fast 5.2 frame-per-second shooting with a new PRIME II Image processing engine, which features fast circuitry and 4 channel output that is ideal for sporting events or any fast action situation.
*
A top shutter speed of 1/8000 sec freezes even the fastest action in well lit settings.
*
Live View mode, now with contrast AF, Face Detection, and optional histogram, grid, and bright/dark area display, allows you to quickly compose your images without having your eye against the viewfinder.
*
A 100 percent field-of-view viewfinder (92X magnification) and bright focusing screen are ideal for accurate image composition and accurate focus.
*
The PENTAX 11-point autofocus system features improved focus algorithms over previous generation K series DSLR cameras, providing faster, more responsive AF.
*
The PENTAX-original Shake Reduction system now compensates for rotational sensor movement improving the sharpness of your images at the moment of capture.
*
The K-7's Dust Reduction system, improved over previous K series cameras, features a piezo-ceramic vibration action to the sensor's low-pass filter for dust-fee image capture.
*
A new high capacity battery features extended battery life, ideal for travel photography or video work.
*
Advanced image capture settings, digital filters, and aspect ratio provide outstanding flexibility and creativity while minimizing the need for computer image manipulation.
*
Custom Image modes with advanced parameter settings including new Key adjustment allow users to customize the processing mode to suit personal creative style.
Other K series innovations featured on the PENTAX K-7 include:
*
Multiple exposure settings, including Green, Program, Sv, Tv, Av, TAv, M, Bulb, X-sync, and USER modes, provide extensive creative control over the exposure for photographers of all experience levels.
*
Advanced white balance settings include highly customizable white balance fine tuning, color temperature adjustment, and post image capture manual white balance selection for perfect pictures in even the most difficult lighting.
*
Dynamic Range setting with adjustable shadow correction brings out hidden or lost details in both highlights and shadows for even the highest-contrast, dynamic lighting.
*
Dedicated PC socket for studio flash offers convenience for the studio photographer without adding hot shoe adapters.
*
Advanced capture options include multi-exposure and interval shooting for creative special effects and time-lapse photography.
Along with the body, PENTAX announced a D-BG4 battery grip for exclusive use with the PENTAX K-7. This battery grip may be used in combination with the camera's rechargeable lithium-ion battery to double camera's battery life. The D-BG4 also accepts 6 AA batteries in a alternate battery tray for added freedom when shooting in the field. With a vertical shutter-release button, e-dials, AE-lock and a new focus button, the grip features the same weather-resistance, dustproof and coldproof construction as the PENTAX K-7.
PENTAX also announced two weather-resistant lens models developed specifically for PENTAX digital SLRs. The smc DA 18-55mm F3.5-5.6 AL WR and the smc DA 50-200mm F4-5.6 ED WR kit lenses feature weather-resistant seals to handle damp, inclement conditions. Complementing K series camera bodies, both lenses blend versatility with affordability, giving the casual photographer a broader canvas without having to carry a multitude of lenses.
The PENTAX K-7 body only will ship in July 2009 for $1,299.95 USD. The PENTAX D-BG4 battery grip also will ship in July 2009 for $229.95. The newest weather-resistant lenses will be priced at $199.95 for the DA 18-55mm and $249.95 for the DA 50-200mm. These products also will ship in July 2009.
Every PENTAX K-7 purchased includes an exclusive coupon for up to 15 percent savings on a variety of PENTAX products. More information about all of these products is available at: http://www.pentaximaging.com/. Images are available here: http://www.pentaximaging.com/press/pressfiles.html. Professional photographers interested in equipment loans may learn more about the PENTAX Pro Program by calling 1-800-877-0155.
PENTAX Imaging Company is an innovative leader in the production of a variety of digital cameras including weather resistant digital SLRs and compact, waterproof cameras, as well as lenses, flash units, binoculars, scopes, and eyepieces. For almost 90 years, PENTAX has developed durable, reliable products that meet the needs of consumers and businesses. With headquarters in Golden, Colorado, PENTAX Imaging Company is a division of PENTAX of America, Inc.
# # #
Consumer contact:
mailto:pentaxinfo@pentax.com
PENTAX K-7 Fact Sheet
A durable, functional body, smaller than any other in its class
The K-7 is built exceptionally solid and durable with a chassis made of a highly rigid stainless-steel alloy and a housing made of a durable but lightweight magnesium-steel alloy. Construction includes 77 seals for weather, dust and cold-resistance for reliable operation even under harsh conditions and at temperatures as low as 14°F (-10°C). The camera also features a newly designed shutter unit providing a top shutter speed of 1/8000 second and the outstanding durability to withstand 100,000 shutter releases.
Despite all these features, the K-7 is one of the most compact and functional photo enthusiast level models in the market.
High-quality image reproduction
The K-7 incorporates a newly developed CMOS image sensor measuring 23.4mm by 15.6mm and featuring a high-speed, four-channel image data readout. With approximately 14.6 effective megapixels, this image sensor more accurately produces fine-detailed, gradation-rich images. With the adverse effects of digital noise significantly reduced, the sensitivity may be increased from ISO 100 up to the highest level of ISO 6400 (via a custom function).
High-performance, high-speed PRIME II imaging engine
The K-7 features the newly developed PRIME (PENTAX Real Image Engine) II, an upgrade of the original PRIME, as its imaging engine. This new imaging engine offers faster data-processing speed for higher quality images with richer gradation and more accurate color rendition. The system also offers high-speed movie data transmission.
High-quality movie recording at 1280 x 720 pixels; 30-frames-per-second
The K-7 adds a new movie recording function, extending the benefits of SLR photography to the world of movie shooting: For instance, reduce the depth of field to make the subject stand out, or use different lenses to create distinctive visual effects. Beautiful movie clips can recorded at different sizes — 640 x 416 pixels, 1536 x 1024 pixels, or 1280 x 720 pixels (16:9 high-definition TV proportions) — at a frame rate of 30 frames per second. The K-7 is also equipped with an HDMI terminal and an external microphone input terminal for high quality sound to match your videos.
Large, easy-to-view 3.0 inch wide-view LCD monitor with 921,000 dot resolution
The K-7 features a large 3.0 inch color LCD monitor with 921,000 dot resolution. The wide-view design allows the photographer to check the monitor image from approximately 170 degrees both vertically and horizontally, facilitating low and high-angle shooting using the Live View function.
High-speed continuous shooting at approx. 5.2 images per second
The high-speed continuous shooting mode captures as many as 40 images (in JPEG recording format) at a maximum speed of approximately 5.2 images per second, allowing photographers to follow the movement of an active subject or preserve a sequence of the subject's expressions.
New 77-segment multi-pattern metering
Newly-developed for the K-7, a sophisticated 77-segment multi-pattern metering system greatly improves light-metering accuracy. By accurately analyzing various types of data (such as the image's composition and format between upright and horizontal, and the subject's distance and magnification) transmitted from the sensors in the camera body, this system greatly improves the accuracy of exposure control.
Live View image confirmation with Face Recognition AF and high-speed continuous shooting modes
The K-7 features the Live View function, which allows the user to view the image on the LCD monitor during shooting. This function is available not only in the Contrast AF mode, which optimizes the focus based on the subject's contrast, but also in the Face Recognition AF mode, which automatically and accurately focuses on the subject's face. A newly developed diaphragm-control mechanism allows the Live View function be used during Continuous Shooting mode with the mirror at lock-up position.
Optical viewfinder provides 100 percent field of view
The K-7 glass prism finder offers 100 percent field of view and an approximately 0.92X magnification to facilitate focusing and framing operations. A new Natural-Bright-Matte III focusing screen improves focusing accuracy during manual-focus operation.
New 11-point wide-frame AF sensor
The K-7's new SAFOX VIII Plus wide-frame autofocus system features 11 sensor points (with nine cross-type sensors positioned in the middle). By adding the light source type to its data range, and driven by a greatly improved algorithm, PENTAX improved the AF system assuring reliable, responsive autofocus operation superior in speed and accuracy to the previous system. The K-7 also incorporates an AF-assist spotbeam projector in its built-in flash unit to improve autofocusing accuracy in the dark.
Next-generation Shake Reduction mechanism*
The K-7 features the PENTAX-developed SR (Shake Reduction) mechanism, which effectively compensates the adverse effect of camera shake by approximately 2.5 to 4 shutter stops, assuring sharp, blur-free images even under demanding shooting conditions. This innovative mechanism is compatible with all PENTAX interchangeable lenses ever produced. This new-generation version allows complete shift freedom, including rotationally, of the image-sensor regardless of the camera's inclination. The mechanism also provides user-friendly new functions such as Automatic Level Adjustment and Minute Angle Adjustment (up/down, right/left and clockwise/counterclockwise) to help photographers compose images exactly to their specifications.
* Lenses compatible with this mechanism are the PENTAX K-, KA-, KAF-, KAF2- and KAF3-mount lenses; screw-mounted lenses (with an adapter); and 645- and 67-system lenses (with an adapter). Some functions may not be available with certain lenses.
New DR II mechanism to minimize dust spots
The K-7 is equipped with a newly developed Dust Removal (DR II) mechanism to more effectively remove dust and minimize spots on recorded images even after changing lenses in dust-prone outdoor settings. Using a piezo-ceramic vibration action, the system shifts or vibrates the low-pass filter located in front of the CMOS image sensor at supersonic speed to remove dust more efficiently. A unique dust-alert system also allows users to check for dust adhering to the low-pass filter prior to actual shooting.
Custom Image function to easily create desired visual effects
The K-7's Custom Image function lets the user control the image's finishing touch to capture their photographic intention, or reproduce the ambience of the scene. With the K-7, the user can select one of seven modes, including the new "Muted" mode designed to recreate an image with delicate, subdued colors. In addition to saturation, tone, contrast and sharpness, the function now makes it possible to adjust "key" and "contrast highlight/shadow" to the desired levels. The effects of these factors may be effortlessly confirmed on a preview image using the Digital Preview or Live View function before finalizing the settings.
Versatile exposure system for exceptional reproduction of creative intentions
* Hyper Program function
The K-7's Hyper Program function allows users to instantly switch to the Shutter- or Aperture-Priority AE mode from the Programmed AE mode, with a simple turn of the electronic dials on the grip. To return to the Programmed AE mode, simply press the green button positioned next to the shutter release button.
* Hyper Manual function
When shooting in Manual mode, a single push of the green button allows the user to instantly set the proper exposure for the subject.
* Sensitivity-Priority mode
The K-7 features a unique Sensitivity-Priority (Sv) mode, which is designed to automatically select the optimum combination of aperture and shutter speed for a user-selected sensitivity. The sensitivity can be shifted instantly in 1/2 or 1/3 steps by turning the electronic dial on the back panel.
* Shutter/Aperture-Priority mode
Taking full advantage of the unique capability of digital cameras permitting automatic shift of sensitivity at any time, the Shutter/Aperture-Priority (TAv) mode automatically selects the most appropriate sensitivity for a user-selected shutter-speed/aperture combination. This allows the user to experiment with a greater range of photographic expressions with great ease.
Powerful rechargeable battery
The K-7 is powered by a large-capacity, rechargeable lithium-ion battery, which can capture approximately 980 images* when fully charged.
*Under testing conditions prescribed by PENTAX, when using a rechargeable D-LI90 lithium-ion battery with no flash.
Additional features:
*
HDR (high dynamic range) function to create one composite image with an extra-wide gradation range from three images with different exposures
*
Dynamic-range expansion function to compensate for both white-washed (overexposed) and blacked-out (underexposed) areas
*
Digital level function for easy checking of the image's levels
*
Automatic compensation of distortion and lateral chromatic aberration (available only with DA- and DFA-series lenses)
*
White balance control, featuring a new CTE mode to emphasize the color components of sunset scenes and a new incandescent-tinted fluorescent light mode
*
Multi-exposure function, with a superimposition of already-recorded images on the LCD monitor for at-a-glance comparison
*
Attachment of copyright credits on recorded images
*
RAW button for single-action switching of image file format
*
16 digital filters to add a range of visual effects; a new function to record an overwritten history also available
*
Color-specific control buttons/dials for easy recognition and quick access, based on the universal color design
*
PENTAX Digital Camera Utility 4 software package, including a RAW-data processing application (based on the popular SILKYPIX RAW-data processing engine developed by Ichikawa Soft Laboratory) and a browser application
Optional accessory
Battery Grip D-BG4
Exclusively designed for the PENTAX K-7 camera body, the Battery Grip D-BG4 is powered by a rechargeable Lithium-ion battery or six AA-size batteries. Since it supplements the camera's battery as an additional power source, the number of recordable images is greatly increased. To facilitate vertical-position shooting, this grip features extra shutter-release button, preview lever, electronic dials, AE-lock button, Green button and AF button. It also provides the same dustproof, weather- and cold-resistant construction as the camera body itself.
PENTAX, K-7, and PENTAX Digital Camera Utility are trademarks of HOYA CORPORATION.
HDMI, the HDMI Logo and High-Definition Multimedia Interface are trademarks or registered trademarks of HDMI Licensing LLC.
All other brands or product names are trademarks or registered trademarks of their respective companies.
Designs and specifications are subjects to change without notice.
Comments