Pentax 15mm f/4 ED AL Limited SMC DA lens test / review by dpreview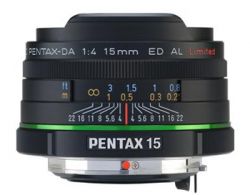 >
Pentax 15mm f/4 ED AL Limited SMC DA
Dpreview has reviewed the Pentax smc DA 15mm f/4 ED AL Limited lens. This is the latest lens from Pentax and it is pretty rare as it is a fixed prime, and it is designed for a digital format.
Dpreview ends up giving the Pentax lens a "Recommended" rating. The lens has a nice and compact build, and has a high quality aluminum construction.
The only downsides are a bit of softness for pictures taken at F4 – F5.6 and that hood design could be better as it is hard to fit filters.
Seems like a nice wide angle prime lens for the Pentax system
Read the full review of the Pentax 15mm f/4 ED AL Limited SMC DA lens here.