Panasonic LUMIX G VARIO HD 14-140mm F4.0-5.8 ASPH. MEGA O.I.S. lens test / review by Photography Blog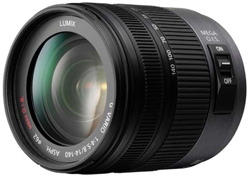 Cam
Photography Blog has reviewed a superzoom lens from Panasonic that should be interesting for many Micro Four Thirds users. The lens is very good for recording videos as it has high speed focusing and is very silent. You can buy the lens alone and it comes as a kit with the GH2 and GH1 cameras from Panasonic.
The website ends up giving the Panasonic lens a very good review with a "Highly Recommended" rating and an overall score of 4.5 stars out of 5 possible. The Lumix lens scores highest on ease of use, design and features, a little lower in image quality while it scores lowest on value for your money. The lens is pretty expensive and heavy compared to a similar Micro Four Thirds lens from Olympus, but if you own the GH1 or GH2 and are interested in recording videos this Panasonic lens should be your choice as it has incredibly fast focus and its optics are good.
Read the full review of the Panasonic LUMIX G VARIO HD 14-140mm F4.0-5.8 ASPH. MEGA O.I.S. lens here.