Panasonic Lumix DMC-ZS1 test / review by Imaging Resource – small pocket zoom camera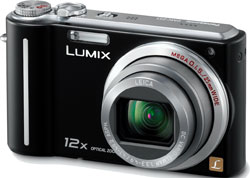 Panasonic Lumix DMC-ZS1
Imaging Resource has reviewed the Panasonic Lumix DMC-ZS1 compact digital camera. This a small pocket-able camera with a long 12x zoom lens that seems like an interesting carry around camera.
Some key features for the Panasonic Lumix DMC-ZS1:
-10.1 megapixel sensor
-12x optical zoom (25 – 300mm)
-2.7″ LCD screen
-Optical image stabilization
-Face detection
-Ability to record 720p HD movies
Imaging Resource ends up giving the Panasonic Lumix DMC-ZS1 a "Dave's Pick" award as the camera has a very usable zoom range (25 – 300mm), the optical image stabilization works well, high FPS and it is able to produce pictures of good quality. One downside is a bit soft corners in pictures taken at the wide side of the zoom range and some ISO noise.
Overall the DMC-ZS1 seems like a very good superzoom camera that can fit in your pocket.
Read the full review of the Panasonic Lumix DMC-ZS1 camera here.