Panasonic Lumix DMC-LZ10 digital compact camera review by dcresource.com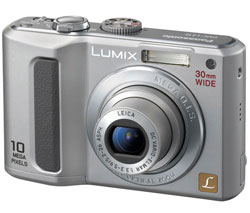 Panasonic Lumix DMC-LZ10
Digital Camera resource page has reviewed the Panasonic Lumix DMC-LZ10 digital compact camera. This camera from Panasonic features 10.1 effective mega pixels, 5x optical zoom lens (equivalent to 30-150mm), optical image stabilization and 2.5″ LCD display with 230,400 pixels.
dcresource.com ends up giving the Panasonic Lumix DMC-LZ10 a nice verdict because of the cameras very good image quality, wide angle lens and sharp LCD display.
The only downfalls being a bit noisy images, no optical viewfinder and not so good focusing the in low light.
Read the full review here.