Panasonic Lumix DMC-FX77 / FX78 digital camera test / review by Trusted Reviews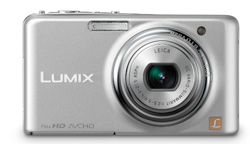 Panasonic Lumix DMC-FX77
Trusted Reviews has tested a new compact camera from Panasonic with a large LCD touchscreen. The camera is called Panasonic Lumix DMC-FX77 (also known as FX78) and also has over 12 megapixels and a nice wide angle 5x optical zoom lens.
Some key features for the Panasonic Lumix DMC-FX77:
-12.1 megapixel image sensor
-5x optical zoom lens (24mm to 120mm)
-3.5″ touchscreen LCD
-Full 1080 HD recording
-3D Photo mode
Trusted Reviews ends up giving the Panasonic camera an overall rating of 8 out of 10 possible points. The FX77 scores highest on performance, image quality, features and design while it scores a little lower on value for your money. This is a really nice compact camera with some features that are a bit gimmicky. The lens is real nice as it starts at 24mm and F2.5. One negative side is the price tag as there are some cameras out there that can compete with the FX77 and has a lower price.
Read the full review of the Panasonic Lumix DMC-FX77 digital camera here.