Panasonic Lumix DMC-FS62 test / review by Trusted Review – Quality budget camera?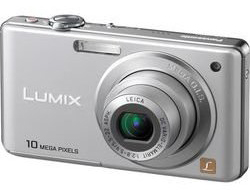 Panasonic Lumix DMC-FS62
Trusted Reviews has tested the Panasonic Lumix DMC-FS62 compact digital camera. This budget Panasonic camera has some nice specifications like a Leica lens and 10.1 megapixels. Let us hear what the reviewer thinks of this camera.
Some key features for the Panasonic Lumix DMC-FS62:
-10.1 megapixel image sensor
-4x optical zoom lens from Leica (33-132mm)
-2.5″ LCD screen
-Video recording with 848 x 480 (WVGA) resolution at 30fps
-ISO sensitivity 80 to 6400
-Optical image stabilization
Trusted Reviews ends up giving the Panasonic Lumix DMC-FS62 a total score of 9 out 10 points and it receives a Trusted Reviews Recommended award. The camera scores highest on value (10 out of 10) and build quality while scoring a little lower on features and image quality. The reviewer finds this Panasonic to be a bargain for the price and the build quality, image quality and features can be compared with cameras twice the price. Maybe this is one of the best budget cameras on the marked?
Read the full review of the Panasonic Lumix DMC-FS62 camera here.