Panasonic announces Lumix DMC-FX580 digital camera – 3″ LCD touch screen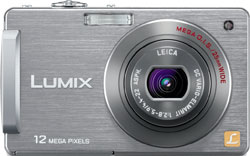 Panasonic Lumix DMC-FX580
Panasonic announced today the new Panasonic Lumix DMC-FX580 compact digital camera. It features a 3″ LCD touch screen and a 12.1 megapixel sensor.
Some key features for the Panasonic Lumix DMC-FX580:
-12.1 megapixel sensor
-3″ LCD touch screen
-5x optical zoom (25 – 125mm)
-40mb built in memory
The Panasonic Lumix DMC-FX580 will be out in April 2009 and cost about $400.

Press release:
Panasonic's Newest Touch-Screen Lumix Digital Camera Features Face Recognition And Increased Megapixels
New LUMIX DMC-FX580 Packs a 25mm Ultra-Wide-Angle and 5x Optical Zoom Into a Touch-Screen Digital Camera Complete With New Advanced iA Mode
MIAMI, FL (January 27, 2009) – Panasonic today announces its newest touch-screen LUMIX digital camera, the slim and stylish DMC-FX580, a successor to last year's DMC-FX500. The new DMC-FX580 features a 25mm ultra-wide-angle LEICA DC lens with F2.8 brightness, a 5x optical zoom and an increased recording image size from 10.1-megapixel to 12.1-megapixel. Using the popular touch-screen operation is easy with the DMC-FX580's large 3.0-inch LCD, so both shooting and image playback is intuitive and smooth.
"With the new LUMIX FX580, Panasonic provides for our digital camera consumers, by offering a touch-screen model, for those users who are accustomed to touch-screen technology," said David Briganti, National Marketing Manager, Imaging, Panasonic Consumer Electronics Company. "With the FX580, we remain true to Panasonic's commitment to providing high-quality photos, by advancing our Intelligent Auto mode and using a bright Leica DC lens, we want to help consumers capture beautiful photos, regardless of their interface preference."
Though featuring a touch-screen, the FX580 uses a hybrid operation system combining the new touch-screen interface and a conventional operation system with the cursor key for intuitive control. Taking advantage of both operation systems, users can set the Auto Focus (AF) and Auto Exposure (AE) at the desired part of the frame by simply touching the subject on the screen while recording. In manual exposure mode, aperture and shutter speed can be adjusted by moving the slider. Users can also make fine adjustments to white balance and color temperature with the touch screen. In playback mode, simply slide a finger across the screen to activate touch scroll for viewing images. An Easy Organization menu is provided to simplify image organizing so the user can quickly select an image to view and edit with the touch menu.
The LUMIX FX580 features Panasonic's iA (Intelligent Auto) mode, a system of technologies, such as MEGA O.I.S., Intelligent ISO Control, Face Detection, AF Tracking*1, Intelligent Exposure and Intelligent Scene Selection, that engage automatically, without the user having to adjust any settings. New in 2009, Panasonic's advanced iA adds Face Recognition, a feature that recognizes individual faces, making it a "personal verification system" in the digital camera*2. Face Recognition allows a user to give AF and AE priority to a single person in a group, ensuring that a person's face will be beautifully exposed.
With Face Recognition, when a familiar face is recorded several times, the camera will prompt the user to register the face. Once registered, if the familiar face appears in the frame again, the camera will display the name specified for that person and prioritize focus and exposure so that the face is bright and sharply focused. During registration, the user can change the icon that indicates when the registered subject is in focus and the person's age can also be added. In playback, users can choose to display only photos that contain a specific registered face using Category Playback, so organizing and viewing photos is much easier.
Panasonic's newly developed Venus Engine V processor integrates these advanced functions and controls the camera's operation with high speed, high performance, and low-power consumption. The Venus Engine V has twin CPUs to boast approximately 2.4x processing capability and also supports a High Sensitivity mode that lets the DMC-FX580 record at a setting of up to ISO 6400*3.
The DMC-FX580 can also record High Definition (1280 x 720p) motion images at 30 fps. And, using the DMW-HDC2 component cable (optional accessories), the video can output directly to a television, such as a Panasonic VIERA® HDTV, for easy playback.
Other features of the Panasonic LUMIX DMC-FX580 include:
*
New Panorama Assist scene mode allows users to shoot a number of consistent photos, either vertically or horizontally, by aligning them according to a guide that overlaps the screen. Then using those photos and the bundled PanoramaMaker software, users can create dramatic panoramic images.
*
High-Speed Burst (Speed Priority) that fires off approx. 10 shots per second*4.
*
Macro Zoom function lets users pull subjects even closer to capture dramatic close-up shots by using the 3x digital zoom in the wide-angle.
*
Bundled PHOTOfunSTUDIO 3.0 software that features a Face Recognition function that recognizes the faces in photos stored on the computer, allowing the user to easily sort files by the people photographed. Using the software, motion pictures can also be uploaded directly to YouTube.
The DMC-FX580 features an aluminum body and available in silver and black starting in April 2009 for a suggested retail price of $399.95. For more information, please visit www.panasonic.com/lumix.