Panasonic announces Lumix DMC-FS7 – 9 point auto focus with face detection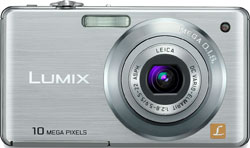 Panasonic Lumix DMC-FS7
Panasonic has announced several new compact cameras. Among them we find the Panasonic Lumix DMC-FS7 with a 10.1 megapixel sensor and 4x optical zoom.
Some key features for the Panasonic Lumix DMC-FS7:
-10.1 megapixel sensor
-4x optical zoom
-2.7″ LCD screen
-Image stabilization
-9 point auto focus
-Face detection
The Panasonic Lumix DMC-FS7 will be available from March 2009 and cost about $160.

Press release:
Slim and Stylish With Simple Operation –
Introducing the DMC-FS6 and DMC-FS7
January 16th 2009 : Panasonic is pleased to introduce the latest additions to its award winning Lumix FS series – the new 10.1-megapixel DMC-FS7 and 8.1-megapixel DMC-FS6 cameras with a bright F2.8 Leica DC lens and with 4x optical zoom (equivalent to 33mm to 132 mm on a 35mm film camera). The FS series, a sister line of the world-acclaimed FX series, pursues easy and simple operation with its high specification for users at every stage to enjoy taking beautiful pictures.  
Every Photographer Can Be a Good Photographer Thanks to Intelligent Auto
Panasonic incorporated Intelligent Auto mode in pursuit of the ultimate ease of operation and the reduction of misshots. Comprising of four major functions (MEGA O.I.S, Intelligent ISO Control, Face Detection and Intelligent Scene Selector) that work together to provide the best possible shooting results everytime. The two most advanced countermeasures against blurring – MEGA O.I.S (Optical Image Stabiliser) to compensate for hand-shake and Intelligent ISO Control to detect and suppress motion blur – are built into the FS6 and FS7. The MEGA O/I/S conventionally has mode 1 and mode 2, and now it has AUTO mode to select the suitable one between the modes according to the zoom ratio being used. Both image stabilising technologies have been further advanced in detection accuracy and correction effect thanks to the new image-processing LSI, Venus Engine IV.
In addition to these two paramount anti-blurring technologies, the Face Detection system helps the camera to recognize human faces and to focus and set the exposure automatically. Up to 15 faces can be recognized simultaneously. Face detection accuracy has also been increased, allowing continuous AF/AE adjustment even if a face moves or turns sideways to the camera. Not only that, the unwanted red-eye effect caused by the use of flash can be digitally corrected.
The Intelligent Scene Selector automatically sets the appropriate scene mode according to the scene you're going to take from among the most frequently used scene modes, such as Portrait, Scenery, Macro, Night Scenery and Night Portrait mode. It now features an automatic backlight compensation function that activates whenever the camera detects that the light source is behind the subject. The Quick AF system allows the camera to keep focus on the subject while the camera is in recording mode even before pressing the shutter.
The user can activate all of these useful, convenient functions by simply pressing an independent iA button on the top of the camera, which is newly equipped for direct activation of the mode.
Zoom in
The 10.1-megapixel DMC-FS7 and 8.1-megapixel DMC-FS6 package a bright F2.8 Leica DC VARIO-ELMARIT lens with 4x optical zoom into a slim, compact body. Comprising 6 elements in 5 groups, including 3 aspherical lenses with 4 aspherical surfaces, this advanced lens unit realizes the outstandingly slim and compact body yet passing Leica's stringent standards to deliver an exceptional optical performance. The zoom ratio can be extended up to7.1x (234mm*, FS7) and 6.4x (211mm*, FS6) in 3megapixel resolution mode with minimal deterioration thanks to the Extra Optical Zoom. By using the central part of the CCD, this powerful zooming function allows you to easily capture and magnify distant subjects.
The Power of the Venus Engine IV
The image-processing LSI, Venus Engine IV, features advanced signal processing technology for rendering high quality images. Featured in the DMC-FS7 and DMC-FS6, the multi-task image-processing engine Venus Engine IV supports a super-fast response time. The shutter release time lag is as short as 0.007 (0.006 for FS6) second and the camera's quick response makes it easier to capture sudden, spur-of-the-moment photo opportunities. In burst shooting mode, the DMC-FS7 can snap 2.5 shots and DMC-FS6 can snap 3 shots per second at full resolution**. In High-Speed Burst shooting mode,*** it fires off an incredible 6 (5.5 for FS6) shots per second. You also get unlimited consecutive shooting****, which lets you keep shooting until the memory card is full. The Venus Engine IV also supports a High Sensitivity mode that lets the DMC-FS7 and DMC-FS6 record at a setting of up to ISO 6400, sensitive enough to capture subjects in near-total darkness without using a flash.***
As Easy as LCD
The DMC-FS7 incorporates an easy-to-see, large, 2.7-inch (2.5-inch for DMC-FS6) 230,000-dot high-resolution LCD for comfortable viewing while both monitoring shots and playing back the results. The Intelligent LCD function detects the light condition and automatically boosts the LCD backlighting by a maximum of 40% when shooting outdoors in bright sunshine, and adjusts the frame rate when shooting in low-lit situations in addition to using the pixel mixed readout method to secure clarity in such situations. Detecting the lighting condition precisely and automatically controlling the brightness with a total of 11 fine steps, this function gives the display the most appropriate clarity in any situation without using extra energy. The High Angle mode makes the LCD screen extremely easy to view when the camera is held high, such as when shooting over a crowd.
View your Photos with Pleasure
To increase your enjoyment when playing back your images, the FS6 and FS7 provide slideshows complete with music. Just select the pictures you want to show and choose the mood that best matches your selection from natural, slow, urban or swing, and you'll get an emotion-filled slideshow with a variety of slide change effects and matching music without any annoying adjustments to the newly added speaker.
Additionally, all Lumix cameras can take 1920×1080 pixel high-definition quality photos that are ideal for full-screen viewing on a wide-screen (16:9) HDTV. Panasonic has long focused on making photography more enjoyable, such as by letting people view their images easily on a Panasonic Viera TV with Viera Image Viewer (internal SD card slot).
Not forgetting motion pictures*****, the FS6 and FS7 can record WVGA****** (848 x 480) motion pictures at 30 frames per second in addition to standard VGA 640 x 480). The WVGA motion picture also fits a wide-screen (16:9) TY perfectly to offer impressive viewing.
The Fun of Photography
Technically specified, yet remaining easy to use – the new models feature of variety of features to expand the fun and convenience for users. For example, the user can select from among several icons for the camera to use for indicating when the subject is in focus. In addition to the conventional dot, a flower, car and several other new shapes are available. The FS7 and FS6 also adds a new "Photo Frame" mode that lets the user put attractive borders around the photo. When printed, the photos look like postcards in picture frames, making them ideal as presents. With the My Scene setting, the user can assign up to two specific scene modes, which you use most often, and switch instantly to those modes when desired.
Included software
The latest version of exciting software PHOTOfunSTUDIO 3.0 comes bundled with the DMC-FS7 and FS6. The PHOTOfunSTUDIO 3.0 allows the user to edit or organize a collection of photos with more ease and fun. It features Face Recognition function that recognizes the faces in the picture stored in your PC to sort the photos by faces. Conventionally, you had to pick up one by one out of hundreds of photos when you only want the picture of a specific person. But with the PHOTOfunSTUDIO 3.0, the software automatically does it once the face is registered regardless of the camera type you used – perfect for digging out all photos of Aunt Mary for her birthday surprise for example! On the sophisticated interface, you can also enjoy emotional slideshow with a variety of effects. Motion pictures (MOV or MPEG2) can also be upload directly to YouTube.*******
* 35mm film equivalent.
** Max. 5(FS7)/7(FS6) images in standard mode, 3(FS7)/4(FS6) images in fine mode.
*** In 3-megapixel(4:3), 2.5-megapixel(3:2), 2-megapixel(16:9) recording
**** The consecutive shooting speed varies with the memory card, image size, and image compression mode. The number of shots depends on the memory card size, battery life, image size and image compression mode.
***** Motion pictures can be recorded continuously for up to 15 minutes in some countries
****** When you set the picture quality to WVGA or VGA, we recommend using a high-speed card with "10MB/s" or greater displayed on the package. SD speed class is the speed standard regarding continuous writing.
******* YouTube is the registered trademark of Google Inc. All other company and product
names are trademarks of their respective corporations.