Panasonic 12.5mm f/12 Lumix G 3D lens test / review by SLR Gear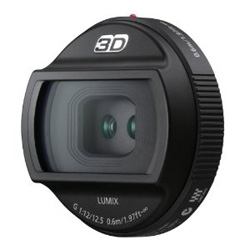 Panasonic 12.5mm f/12 Lumix G 3D
SLR Gear has reviewed a 3D lens from Panasonic that is designed for the Micro Four Thirds system. The lens is called Panasonic 12.5mm f/12 Lumix G 3D and gives you the opportunity to take 3D-photos. It has two optical systems installed within the diameter of the lens mount that will create a stereo image. Let us hear what the website thinks about this Panasonic lens.
SLR Gear ends up giving the Panasonic 12.5mm f/12 Lumix G 3D a good review, but there are some shortcoming. Since the lens is f/12 you need a lot of light to take 3D pictures. You also need a big 3D TV and 3D glasses to really enjoy the photos that this lens produces. If you are into 3D-photography and are a Micro Four Thirds photographer this should be the lens for you, especially if you look at the reasonable price tag.
Read the full review of the Panasonic 12.5mm f/12 Lumix G 3D lens here.