Olympus updates firmware for their E-3 DSLR to version 1.3 – Improves auto focus accuracy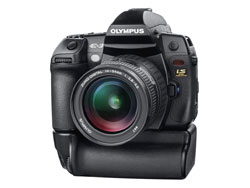 Olympus E-3 DSLR
Olympus announced a new firmware for their flagship DSLR camera, the Olympus E-3. Firmware version 1.3 includes improvements to auto foucs accuracy, C-AF performance, improved battery life and makes users able to select AF target by using arrow keys.
Information from Olympus:
-Allow E-3 users to select the AF target by pressing the arrow keys
-Improve AF accuracy when using fast lenses with f2.0 aperture
-Improve C-AF performance
-Improve battery life when using the HLD-4 battery holder
Olympus informs us that when installing the new firmware the E-3 will be rested to factory settings so you should manually record your settings before upgrading the firmware.