Olympus PEN E-PL1 micro four thirds camera test / review by Photography Blog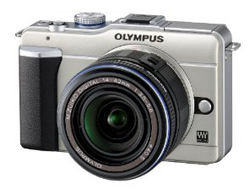 Olympus PEN E-PL1
Photography Blog is once again very early with their reviews of digital cameras. This time they have reviewed the Olympus PEN E-PL1 micro four thirds camera. The latest micro four thirds camera is a cheaper and smaller camera than the EP-1 and EP-2. The E-PL1 also has a plastic chassis compared to the metal one for its big brothers.
Some key features for the Olympus PEN E-PL1:
-12.3 megapixel image sensor
-Sensor image stabilization
-2.7″ LCD screen
-HD video recording
-ISO sensitivity from 100 to 3200
-Face detection
-6 art filters
Photography Blog ends up giving the Olympus PEN E-PL1 a "Highly Recommended" rating with an overall score of 4.5 stars out of 5. The Olympus camera scores highest on ease of use and image quality while scoring a little lower on design and features. Overall it seems like Olympus has come up with another winner addition to their micro four thirds line up. I'm considering myself to buy into the micro four thirds system to get a smaller set up and the PEN E-PL1 is a strong contender for my money.
Read the full review of the Olympus PEN E-PL1 micro four thirds camera here.