Olympus mju-Tough 6020 water resistant camera test / review by Trusted Reviews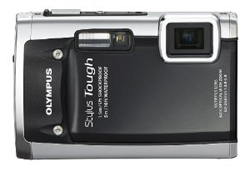 Olympus mju-Tough 6020
Trusted Reviews has tested a rugged digital camera from Olympus. The camera is called Olympus mju-Tough 6020 and is able to take pictures down to depths of 10 meters along with 14 megapixels and a wide angle zoom lens.
Some key features for the Olympus mju-Tough 6020:
-Waterproof down to 10 meters
-Shockproof up to 2 meters
-Freezeproof down to -10°C
-14 megapixel image sensor
-5x optical zoom lens (28-140mm)
-2.7″ LCD screen
-HD video recording
-1GB of internal memory
Trusted Reviews ends up giving the Tough 6020 camera a good review with an overall score of 8 out of 10 possible points. The Olympus camera scores highest on build quality where it gets 10 out of 10, a little lower on image quality and value for your money while scoring lowest on features. If you have a life with a lot of outdoor activity and need a rugged digital camera the 6020 might be your choice. The only downsides are that the Olympus camera is a bit slow and some noise at higher ISO levels, but other than that this is a good camera especially if you look at the price tag.
Read the full review of the Olympus mju-Tough 6020 digital camera here.