Olympus E-P1 Mirco Four Thirds camera review / test by Imaging Resource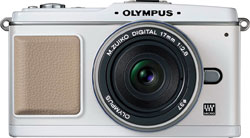 Olympus E-P1
Imaging Resource has reviewed the Olympus E-P1 digital camera. The E-P1 is the first Micro Four Thirds camera from Olympus so it will be interesting to see what the reviewer thinks about it. As I'm interested in getting a smaller camera than my current DSLR I got my eyes on the Olympus E-P1.
Some key features for the Olympus E-P1:
-12.3 megapixel image sensor
-TruePic V image processor
-in-body image stabilization
-4.8 x 2.8 x 1.4″ dimensions
-weighs 11.8 ounces
-3.0″ LCD display with 230,000 dots of resolution
-ISO sensitivity from 100 to 6400
-shutter speeds 2 – 1/4000 second (also bulb mode)
-HD Movie with stereo sound
-SD/SDHC memory card support
Imaging Resource ends up giving the Olympus E-P1 a very good review as the camera is very compact and is able to produce pictures of high quality (even at higher ISO levels). The EP-1 even receive a "Dave's Pick" so this seem like a safe choice for most photographers. The only downsides are that LCD screen could have higher resolution and the auto focus speed is a bit slower compared to other Micro Four Thirds cameras.
Read the full review of the Olympus E-P1 camera here.