Olympus E-P1 announced – first Mirco Four Thirds camera from Olympus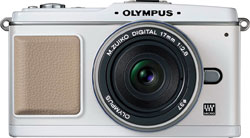 Olympus E-P1
Olymous has announced their first Micro Four Thirds camera. The camera is called Olympus E-P1 and has a neat retro looking design. The camera also feature a 12.3 megapixel sensor, HD Movie with stereo sound and much more.
In my opinion one of the most surprising parts about this Olympus camera is that it supports SD/SDHC memory cards.
Some key features for the Olympus E-P1:
-12.3 megapixel image sensor
-TruePic V image processor
-in-body image stabilization
-4.8 x 2.8 x 1.4″ dimensions
-weighs 11.8 ounces
-3.0″ LCD display with 230,000 dots of resolution
-ISO sensitivity from 100 to 6400
-shutter speeds 2 – 1/4000 second (also bulb mode)
-HD Movie with stereo sound
-SD/SDHC memory card support
The Olympus E-P1 will be on the marked in July 2009 and cost about $750 for the camera body only and $800 for the cheapest kit which include a 14-42mm lens.

Press release:
OLYMPUS UNVEILS A NEW ERA WITH THE E-P1: NOT A POINT & SHOOT. NOT AN SLR. IT?S A PEN. WHAT WILL YOU CREATE?
Experience Incredible Multimedia Creative Freedom Blended with Digital SLR Image Quality, HD Video and Stereo Audio in a Compact Camera Body
CENTER VALLEY, Pa., June 16, 2009 – A new era of digital imaging begins today with the launch of the Olympus E-P1. The world's smallest 12.3-megapixel interchangeable lens system camera blends the high-quality still images of a digital single lens reflex (DSLR) with High Definition (HD) video, stereo Linear PCM audio recording and In-Camera Creativity within an ultra-portable body. The easy-to-use E-P1 expands your creative horizons and its diverse multimedia features offer something for everyone. Built for today's visual generation who lead active lives online and offline, the E-P1 will make you rethink what you can do with a camera.
Capture More of the Life You Live
Shooting spontaneous images of your daily life usually means snapping small, grainy images with your cell phone or using a point-and-shoot if it's handy. A DSLR delivers incredible image quality, but most aren't compact enough to roam with you. Now, the E-P1 changes the game with a compact body that delivers the professional quality images of a DSLR without the bulk. Moreover, its sharp HD video capture and stereo audio helps you live a better-documented life because you're carrying one portable camera rather than a DSLR, an HD camcorder and a high-end audio device.
You can share more of your life with the world when the E-P1 travels with you. Make your Facebook, MySpace, Flickr, YouTube, Twitter and personal blog postings unique by capturing and sharing more videos and photos. You can chronicle more of the life you actually lead, rather than just special occasions you prepare for, like weddings, holidays and birthday parties. Since it's the only camera to offer in-camera art filters for both still photography and videos with high-end audio, even your everyday activities will look and sound amazing!
"The E-P1 is designed for the mobile, visual generation that lives active lives online and off, and its portability ensures that it will go with you wherever life takes you," said John Knaur, senior marketing manager, Digital SLR, Olympus Imaging America Inc. "As someone who has shot with an SLR most of my life, I'm excited that SLR-quality images can be captured with a camera this compact and portable. The E-P1 truly allows you to capture it all with the highest still photo image quality blended with HD video, high-end audio, multiple exposure and creative art filters in one small, stylish camera."
Innovation since 1959: The Olympus PEN
They say that the pen is mightier than the sword, and now the E-P1 takes self-expression to a whole new, powerful level. Olympus has a long history of miniaturizing camera technology. The first-generation Olympus PEN appeared in 1959 and led the way to high-quality images in a small package, matching SLR cameras' performance of the era.
Today, Olympus utilized its miniaturizing and engineering expertise to create a slimmer body, removing the optical viewfinder and mirror box found inside a traditional DSLR, to create a small but high-quality interchangeable lens camera. By reducing its lens mount diameter, Olympus also enabled the production of smaller and lighter lenses to match the E-P1's body size.
Beautifully Designed Stainless-Steel Body
The new camera's high-end, stainless-steel body is easy to handle and carry, and has the styling and refinement of a precision watch. Its retro-chic look turns heads, from tech aficionados and camera buffs to the fashion-conscious and everyday point-and-shooter. Built to be solid, it fits comfortably in a jacket pocket or a handbag for a night on the town, or to take on any spontaneous adventure. The E-P1 lets you do more and go more places while capturing your life, thanks to its compact size – 4.75″(W) x 2.75″ (H) x 1.43″ (D) – and light 11.8-ounce body. Attention to detail is visible in every aspect of the camera's retro-style metal body design, available in either silver or white with accompanying new small and lightweight Olympus M. ZUIKO Micro Four Thirds lenses: 14-42mm f3.5-5.6 (28-84mm equivalent) and 17mm f2.8 (34mm equivalent).
The new E-P1 offers many great features derived from the E-System, as well as many breakthrough innovations, including:
Superior DSLR Image Quality
In-body Image Stabilization
Amazing 3-inch LCD
Proven Dust Reduction System
12 megapixels with next-generation TruePic™ V
HD video with high-quality stereo audio
In-camera creative features (for still images and video)
Multiple exposures
Multi-aspect shooting
Multimedia slideshows
Digital leveler
Magnified focus assist
18×18 metering modes
Small accessories for small camera
Ultra-Compact Body Delivers Superior DSLR Image Quality
The E-P1 erases all doubts about whether a compact camera can take images that are equal to those taken by a DSLR, because it has everything you need to produce vibrant DSLR-quality images: a large 12.3-megapixel imager, In-body Image Stabilization, fast Imager Autofocus, the proven Olympus Dust Reduction System and the new TruePic™ V Image Processor.
As the first Micro Four Thirds camera from Olympus, the E-P1 provides the same image quality as current Four Thirds format E-System cameras because it has the same image sensor size as the E-30 and E-620 DSLR models, but in a much smaller body. This high-performance 12.3-megapixel Live MOS image sensor delivers excellent dynamic range, accurate color fidelity, and a state-of-the-art amplifier circuit to reduce noise and capture fine image details in both highlight and shadow areas.
Be a Mover, Not a Shaker
Any lens attached to the E-P1 will deliver blur-free images thanks to three modes of In-body Image Stabilization that compensate for up to four steps EV (exposure value). Mechanical Image Stabilization works to automatically compensate for camera shake in low light or when using a telephoto lens. And because the E-P1 is the world's smallest interchangeable lens camera with built-in Image Stabilization, you'll feel comfortable taking it on the road with you to capture the action.
Small Real Estate with an Amazing 3-Inch LCD View
What you see on the new camera's 100 percent accurate, 3-inch full color HyperCrystal LCD is what you get. Consumers accustomed to composing and focusing using a point-and-shoot camera's LCD will appreciate that the E-P1 offers the same easy, seamless experience when shooting still images or videos. With the new Live Control function, icons appear on the LCD, making it easy to compose, edit and shoot pictures or videos without stopping to access various menus. The E-P1's fast Imager Autofocus in Live View also enables you to compose, focus and capture the shot quickly and easily without ever taking your eyes off the large LCD.
The LCD displays 230,000 pixels in vivid color and includes HyperCrystal technology, which offers many times the contrast of conventional LCD monitors for easier viewing in both preview and playback. It also provides a wide viewing angle of 176 degrees, which ensures that images can be composed from even the most obscure angles.
This Camera Leaves Others in the Dust
You don't have to waste precious time worrying about dust ruining the perfect image; instead, spend more of that time shooting with the E-P1. The proven Olympus Dust Reduction System produces spot-free photos with the exclusive Supersonic Wave Filter™, a patented ultrasonic technology that vibrates to remove dust and other particles from the front of the image sensor, capturing it on a special adhesive membrane every time the camera is turned on.
Unleash 12 Million Pixels on Your Canvas
The E-P1's Live MOS image sensor is complemented by Olympus' next-generation TruePic™ V Image Processor, which produces clear and colorful photos using all the pixel information for each image to provide the best digital images possible. The new image processor is noted for accurate natural color, true-to-life flesh tones, brilliant blue skies and precise tonal expression; it also lowers image noise in photos shot at higher ISO settings (ISO 100 to an incredible ISO 6400), enabling great results in low-light situations.
What Will You Create with In-Camera Creativity in HD?
Olympus pioneered easy-to-use Art Filters for still images captured inside its E-System DSLRs, and now those same In-Camera Creative Features are built into the E-P1 with a fresh twist – they can also be applied to High Definition video recordings to take your videos to a new level of creative expression and put you in the director's chair.
Your movies and YouTube videos will have the incredible clarity of HD whether Art Filters are applied or not. Just imagine how dramatic and unique your videos will appear with any one of the six in-camera Art Filters applied as effects: Pop Art, Soft Focus, Pale & Light Color, Light Tone, Grainy Film or Pin Hole. Whether you're a videographer, documentarian or established director – or just want to shoot like one – Art Filters set your images and videos apart from the pack. Since they're built into the camera, you can achieve dramatic results on the go without needing a computer or editing software.
Because the E-P1 is an interchangable lens system camera you have more creative options in composition for video capture, to add to your visual palette. You can attach any one of the new super-compact Micro Four Thirds lenses or, because the camera can accept many of the other Four Thirds Format lenses with an available MMF-1 Four Thirds System Lens Adapter, you can add anything from an extreme wide-angle fisheye lens to a super telephoto lens for a wide range of expressive options. All the while you will have more DSLR-like control over depth of field, focus, white balance and ISO.
What You See Is What You Get
When viewing the LCD in Live View, Art Filter effects and settings like white balance and exposure are viewable right on the LCD, and their impact is seen instantly on the display. This real-time monitoring offers amazing versatility and creative control, and users who apply a setting have instant gratification because what they see on the camera's LCD is what they've captured. For musicians used to applying audio effects like reverb to their instruments before recording them, the concept of setting the E-P1 to capture precisely the kind of image they want before they press the shutter makes perfect sense. For imaging purists who want to shoot without filters, and apply them to unfiltered images inside the camera later, or just edit images back at their computers, the E-P1 provides these options and opens more in-the-field creative possibilities.
Mix It Up with Multiple Exposures
With the E-P1's Multiple Exposure function available for still image capture you are free to tell a visual story your way, whether in a portrait, a landscape or a combination of both. The image capture options allow you to shoot one shot, then another and combine them in real time, or capture both shots separately and combine them in the camera later. Overlay your face on top of your pet's face. Create an "identical twin" of yourself. Put the moon in the sky at noon. Your ability to manipulate space and time makes this new creative multimedia device a veritable time machine.
Frame Your Works of Art Inside the E-P1
You can often achieve greater photographic expression by framing a scene in a unique way. The E-P1 provides four aspect ratios that serve as masks to frame your image to the desired proportions, including: the standard 4:3 aspect ratio that is perfectly suited to an 8 x 10-inch enlargement; the 16:9 aspect ratio that will display your images beautifully on a widescreen television; and other popular aspect ratios such as 3:2 and 6:6. The Multi-Aspect Shooting further expresses your creative vision when combined with Art Filters and multiple exposures.
Stereo Audio Sounds As Good As the E-P1 Images Look
Like the innovative Olympus LS-10 portable audio recording device that puts the power of a recording studio in your pocket, the E-P1 features uncompressed 24 bit/96kHz Linear PCM recording capability to capture the rich sound quality of your scene. When you shoot with the E-P1, it's like having a sound technician built into your camera to capture the nuances of the audio happening all around you. It has the versatility to record and play back in the WAV format and can record with its built-in stereo microphone. Whether recording audio while shooting a video or adding audio by recording a narration to your still images, the E-P1's audio sounds as great as its images look.
Create Your Own Multimedia Slideshows with Stills, Video and Audio Inside E-P1
Content is king, and with the E-P1 you have your own portable kingdom of still images, HD video, and audio to remix at your command. In playback mode you can seamlessly mix stills and movies inside the camera to create a multimedia slideshow and dub in one of five built-in dramatic background music options to provide a soundtrack for your cinematic creation. Plug the E-P1 into any HD television with an HDMI cable and show off your masterpieces to your audience before the DVD arrives in stores.
As Easy to Use As a Point-and-Shoot with SLR-Quality Technologies
The E-P1 is equipped with 19 automatic scene modes for effortless picture taking. Standard scene modes like Night-Scene, Portrait and Landscape are easy-to-use solutions for everyday shooting. Capturing beautiful portraits is easy with the new ePortrait Mode. It enables you to smooth your subject's face – all in the camera and before capture! Additionally, edits can be made post-capture using the ePortrait Fix mode.
Shooting scenes with both highlights and shadows can often be dicey because of the extreme contrast between dark and bright areas. The E-P1 addresses this challenge with Shadow Adjustment Technology that adjusts for extreme light variations and maintains visible detail in both the shadow and highlight areas of the scene. Now users can see and preview the gradation on the Live View LCD and capture images showing the shadow detail they saw. This feature is also accessible in the Edit menu after the shot has been taken.
The E-P1's Face Detection reduces the chance of blurred subjects in images by recognizing up to eight people's faces and the background, tracking the faces within the image area, even if people are moving, and automatically focusing and optimizing exposure for sharp, brilliant portrait pictures (ideal for large family or party group photos).
If you don't want to change camera settings every time you're shooting something different, then the E-P1's Intelligent Auto Mode is for you. It automatically identifies what you are shooting (Portrait, Landscape, Night + Portrait, Macro, Sports) and adjusts settings to capture the best result depending on the situation. First-time users will enjoy this quick and hassle-free feature, which does the thinking for them and produces incredible images like a pro.
The New Super Control Panel with Live Control technology, along with the camera's intuitive button layout, enables you to see both the image and the controls on the 3-inch HyperCrystal LCD, making the camera simple to use. The E-P1 records to SDHC media cards to accommodate large files including videos with In-Camera Creative Features and uncompressed audio.
Digital Leveler
The E-P1 is equipped with an internal Digital Level Sensor that detects the camera's pitch and roll and indicates it on the control panel. This Digital Leveler is a tremendous benefit when capturing landscapes. Level the perfect coastline shot on your next tropical vacation without being tethered to a computer and editing software.
Magnified Focus Assist
To enable accurate manual focusing the E-P1 provides MF Assist Function and Magnification Display. In S-AF + MF or MF, the MF assist enables you to zoom up the central part of the image by up to 5 times by turning the focus ring. The Magnification Display lets you magnify the image on the LCD by up to 7X at the touch of a button. Additionally, if you use the dial, you can boost magnification all the way up to 10X for more precise manual focusing.
18×18 Metering Modes
This mode divides the image area into an 18 x 18 grid, metering each of the 324 separate cells to obtain optimum exposure. In addition to 324-division ESP metering, center-weighted metering and spot metering modes are also available.
Smaller Accessories for Small Camera
In addition to the new Micro Four Thirds lenses, Olympus also offers an optional Clip-on Optical Viewfinder for use with the Micro Four Thirds 17mm f2.8 (34mm equivalent) lens. The MMF-1 Four Thirds System Lens Adapter enables all Olympus ZUIKO Digital lenses as well as Four Thirds System lenses from Sigma, Panasonic and Leica lenses to attach to the E-P1. If you have Olympus OM lenses and want to attach them to the E-P1, that is possible with the MF-2 OM Lens Adapter. Additionally, an optional FL-14 flash unit, suitably small for the camera, adds more lighting versatility to your shots.
OLYMPUS Master 2 Software
Use the included Olympus Master 2 software (Mac and PC) to easily download images from the camera or other external device, such as a USB drive, and automatically organize them into albums and groups and by date. Develop high-quality RAW images, apply Art Filter effects, edit and print images. Update camera and lens firmware through the software and download additional menu languages. A direct link makes uploading your images and videos to YouTube™ easier than ever.
OLYMPUS Studio 2 (Trial Edition Included)
Extend the capability of Olympus Master 2 with Olympus Studio 2. In addition to the functions of OLYMPUS Master 2, this software includes a lightbox mode and selection marks for comparing and sorting multiple images. RAW processing is enhanced with additional controls for finer adjustments. The trial edition can be used for 30 days after installation. After the trial period has expired, a license key is required for further use.
Availability
The Olympus E-P1 will be available in July 2009. It includes E-P1 Body, USB Cable, Video Cable, Li-Ion Battery Pack (BLS-1), Li-Ion Battery Charger (BCS-1), Shoulder Strap, OLYMPUS Master 2 Software CD-ROM, Manuals and Registration card.
U.S. Pricing / Product Configurations
E-P1 Body Estimated Street Price: $749.99
E-P1 Body with ED 14-42mm f3.5/5.6 Zuiko Digital Zoom Lens Estimated Street Price: $799.99
E-P1 Body with ED 17mm f2.8 with optical viewfinder Estimated Street Price: $899.99
ABOUT OLYMPUS IMAGING AMERICA INC.
Olympus Imaging America Inc. is a precision technology leader, designing and delivering award-winning products for consumer and professional markets.
Olympus Imaging America Inc. works collaboratively with its customers and its ultimate parent company, Olympus Corporation, to develop breakthrough technologies with revolutionary product design and functionality that enhances people's lives every day. These include:
Digital Cameras
Professional and Consumer Digital SLR Imaging Systems
Related Underwater Products and Accessories
Digital and Microcassette Recorders
Digital Media
Binoculars
Olympus Imaging America Inc. is responsible for sales in the United States, Canada, Mexico, the Caribbean, and Central and South America. For more information, visit: www.olympusamerica.com.
*Specifications and design are subject to change without any notice or obligation on the part of the manufacturer. All trademarks mentioned herein are the property of their respective holder.
©2009 Olympus Imaging America Inc.