Olympus announces compact DSLR camera – Olympus E-450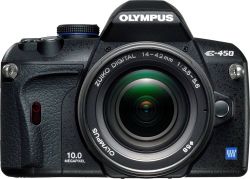 Olympus E-450
Today Olympus announced a new compact DSLR called Olympus E-450. The E-450 is very similar to the E-420, but has a few improvements including 3 new art filters, a new TruePic III+ processor, improved continuous shooting buffer (8 RAW-files instead of 6) and an improved LCD screen.
Some key features for the Olympus E-450:
-3 art filters (Pop Art, Soft Focus and Pin Hole)
-TruePic III+ processor
-improved continuous shooting buffer (8 RAW-files instead of 6)
-improved bulb mode to 30 minutes
-better LCD screen
The Olympus E-450 will be available in May 2009 and cost about $700 which include the kit lenses Olympus ED 14-42mm f3.5/5.6 and ED 40-150mm f4.0/5.6 Zuiko.

Press release:
OLYMPUS BRINGS CREATIVE FREEDOM TO THE E-450 DSLR
New Entry-Level Digital Single Lens Reflex Camera Debuts Mother's Day Weekend
CENTER VALLEY, Pa., March 31, 2009 – Olympus announces its new entry-level digital single lens reflex (DSLR) camera, which is small in size and powerful in creativity. The new E-450 continues the E-400 series' heritage of a small and portable design, powerful features, and ease of use for any skill level, including first time digital camera users. Thanks to Art Filters pioneered with the E-30 and E-620, the E-450 provides consumers with the creative freedom to capture their images in new fun and exciting ways.
The three Art Filters – Pop Art, Pin Hole and Soft Focus – bring greater creativity and freestyle experimentation to the new E-450. The creative filters were first introduced in Olympus' E-30 prosumer DSLR earlier this year, and now enable consumers to express themselves and capture it all – limited only by their imagination. The E-450 offers the 10-megapixel imager and other features from the E-420.
The new camera also provides heavyweight technologies, including a bigger, more viewable 2.7-inch LCD and fast consumer-friendly On-Screen Autofocus, Face Detection, Shadow Adjustment Technology and Perfect Shot Preview to get the most out of the Live View experience. Additionally, when it comes to Live View, not all LCDs are created equal. At 2.7-inches, the portable E-450 LCD is large enough for users to compose and review images without squinting. The small camera's LCD is part of a camera with technologies intelligent enough to take advantage of the Live View photography experience. These innovative technologies include:
On-Screen Autofocus works as seamlessly as a point-and-shoot to display subjects in focus on the LCD the instant the shutter is pressed half way;
Face Detection Technology targets and locks on up to eight faces to ensure they are in focus and crystal clear for amazing portraits;
New and Improved HyperCrystal II™ Technology delivers twice the contrast and better viewing in extreme lighting conditions, a broader range of color detail, and a wider angle of view on the LCD so you and your friends can see it up to 176 degrees off-center;
Shadow Adjustment Technology captures detail in the bright areas of a frame and opens up detail in the shadows that other cameras would render too dark or underexposed; and
Perfect Shot Preview enables you to view and select your favorite effect right on the LCD, and see how the image will look before you even capture it, so you know that what you see is what you get.
Olympus is scheduled to launch the E-450 DSLR on leading multimedia retailer QVC® Saturday, May 9.
"We are thrilled to debut the much-anticipated Olympus E-450," said Rob Ellerstein, director of electronics merchandising for QVC. "Thanks to our strong relationship with Olympus, we are not only offering the most innovative new products but we are also giving our customers the opportunity to order them before they hit stores."
The product will be widely available in the U.S. and Canada in July.
Make Your Vision Come to Life with Art Filters
If you're hoping to get more out of your camera than simply capturing and documenting a scene, and enjoy enhancing or customizing an image to make it your own, then you will value the camera's Art Filters. The filters, which are built into the camera, provide incredible individual artistic control over an image, and remove the need to spend time altering images on the computer with editing software.
This camera was made for free-style shooting, experimenting and engaging with events and subjects. Enjoy the freedom of Autofocus Live View and dramatic effects to transform your day-to-day shots into compositions that you can be proud of with the following in-camera Art Filters:
Pop Art: Enhances colors, making them more saturated and vivid, creating high-impact pictures that express the joyful, lighthearted feeling of the Pop Art style of the 1960s;
Soft Focus: Creates an ethereal, otherworldly atmosphere that renders subjects in a heavenly light without obscuring details; and
Pin Hole: Reduces the peripheral brightness of an image as though it were shot through a pin hole, connecting the viewer intimately with the subject at the center of the picture.
Art Filters are easily activated with the mode dial on the right side of the camera body. The effects are viewable right on the new camera's 100 percent accurate 2.7-inch Live View LCD when using the E-450 in Live View mode or when reviewing the captured image.
The Live View Experience
Olympus was the first to bring Live View to a consumer DSLR (the E-330 in 2006), and Live View has revolutionized DSLR photography. Anyone who has photographed young children knows that you get the best reactions when you hold the camera away from your face and maintain eye contact and an engaging smile. If you have tried to take photos high above the heads in a crowd or low near the ground, you will appreciate that it is easier to use the LCD screen than to climb a ladder or lie on the ground.
The E-450 solves these problems with its Live View LCD, which enables photographers to easily and comfortably hold the camera at angles that could not be reached by using the optical viewfinder alone. The E-450's Live View autofocus functionality now simplifies the process by working just like a point and shoot. By simply pressing the shutter button halfway, your subjects come into focus on the LCD, so when the perfect moment occurs it is easy to capture sharp images.
Always Find a Face in the Crowd
A camera this consumer-friendly is perfect for taking portraits of friends and family while out and about. The E-450's Face Detection feature distinguishes between people's faces and the background. It tracks up to eight faces within the image area and automatically focuses and optimizes exposure for sharp, brilliant portrait pictures. Even if your subjects are moving, the camera continuously tracks their faces.
Bright Day or Deep Shadow, Never Miss a Detail
Shooting scenes with shadows can be tricky because of the extreme contrast between dark and bright areas. The E-450 addresses this challenge with Shadow Adjustment Technology that compensates for extreme contrast when shadow areas are underexposed and lack visible detail. Now users can preview and capture images with the same fine contrast they see with their own eyes.
Preview All the Possibilities
With 18 pre-set scene-select modes for every imaginable shooting scenario and full manual controls, the E-450 offers a world of possibilities to photographers. Additionally, Perfect Shot Preview enables users to preview and select various photographic effects on a live, multi-window screen on the LCD before snapping the shot. This feature shows photographers what their images will look like beforehand under various settings, ensuring that they capture exactly what they want. It is an ideal way for novice users to learn about the effects of different photography techniques, such as exposure compensation, white balance and metering.
Enlarge Your Photos
Capturing, enlarging and displaying amazing images on your wall is a snap thanks to the E-450's 10 million pixels for high-resolution photos. The 10-megapixel sensor gives users the flexibility to enlarge prints to the sizes supported by many of today's printers, or crop the image to print only a part of the image that is important to them. The high-performance Live MOS image sensor in the E-450 delivers excellent dynamic range for accurate color fidelity and a state-of-the-art image processor dramatically reduces noise and captures fine image details in the highlight and shadow areas.
Improved Auto White Balance
Many digital SLR users want to focus their attention on things other than white balance while they are on the move. As a result, the E-450 features an improved automatic white balance performance with a new algorithm for more accurate color.
TruePic III+ for Image Clarity & Speed
Olympus' TruePic III+ Image Processor produces crystal clear photos using all the pixel information for each image to provide the best digital images possible for every photo with accurate color, true-to-life flesh tones, brilliant blue skies and precise tonal representation in between. TruePic III+ also lowers image noise by one step to reduce graininess in images shot at higher ISO settings, enabling great results in low-light situations.
Worried about missing the winning goal at the soccer game? The image processor on the E-450 enables it to shoot up to 3.5 frames per second in sequential shooting mode, which means that photographers will be able to capture fast-paced action as it happens.
Dust Reduction System for Spot-Free Images
Life moves too fast to spend time worrying about dust ruining your images. Olympus' proven Dust Reduction System produces spot-free photos with the exclusive Supersonic Wave Filter™. The patented ultrasonic technology vibrates to remove dust and other particles from the front of the image sensor and captures it on a special adhesive membrane every time the camera is turned on. This results in beautiful images free from dust spots, which could ruin or be distracting on an image.
Media Versatility
Accepting both CompactFlash Type I & II, Microdrives, and xD-Picture Cards, the E-450 provides a choice of data storage options for enhanced flexibility, and it is possible to transfer image files from one card to the other right inside the camera.
Wireless Flash Capability
If you decide to venture into the arena of advanced lighting, the E-450 is ready to meet the challenge. The E-450 is compatible with the Olympus FL-50R and FL-36R wireless electronic flashes that are designed exclusively for digital photography. When these flashes are used in combination with the E-450, wireless multi-flash photography is possible. The E-450 can control up to three wireless flash groups independently, with several flash units per group.
Availability
The Olympus E-450 DSLR will be available in July 2009. It includes E-450 Body, ED 14-42mm f3.5/5.6 Zuiko Digital Zoom Lens, ED 40-150mm f4.0/5.6 Zuiko Digital Zoom Lens, USB Cable, Video Cable, Li-Ion Battery Pack (BLS-1), Li-Ion Battery Charger (BCS-1), Shoulder Strap, OLYMPUS Master 2 Software CD-ROM, Manuals and Warranty Card.
U.S. Pricing
E-450 Two-Lens Kit Estimated Street Price: $699.99