Nikon D5000 DSLR review / test by Digital Camera Review – bad video?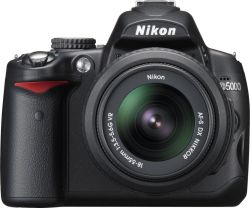 Nikon D5000
Digital Camera Review has reviewed the Nikon D5000 DSLR. This DSLR is the first from Nikon that has a tilt swivel LCD screen. The D500 also feature a 720p HD movie mode and it will interesting to see how it works.
Some key features for the Nikon D5000:
-12.3 megapixel sensor
-2.7″ 180 degree tilt swivel LCD screen
-720p HD movie with sound
-live view with four auto focus options
Digital Camera Review ends up giving the Nikon D5000 camera a pretty good review as it is able to take good pictures of good quality and performs over all.
The only downsides are a bit steep price tag, no auto focus when recording video and there is a time limit for the HD video mode.
All in all the Nikon D5000 seems like a very good entry level DSLR camera as soon as the price goes down a bit.
Read the full review of the Nikon D5000 DSLR here.